Student-produced video could net $15,000 in Adidas contest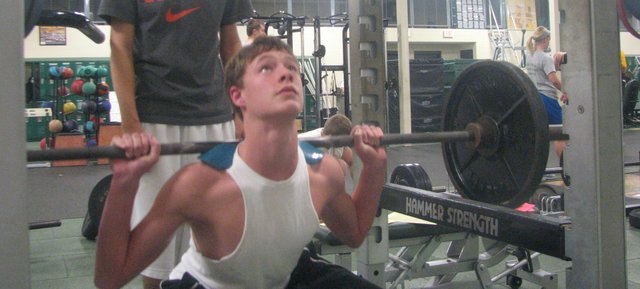 Tasked with showcasing Basehor-Linwood High School's best "moves" in a video, senior Courtney Inlow decided the school's most exciting athletic achievements happened away from screaming crowds or bright lights.
So for her submission to an online contest sponsored by an Adidas fragrance, Inlow sent a video of BLHS students sprinting, hopping up hills and doing other conditioning drills, instead of the trick basketball shots or touchdown runs she saw in other clips in the contest.
"When I got on there and watched some of the older videos, they were mostly just one kid doing something, a cool shot or something like that," Inlow said. "But I think the cool thing about ours is that it's like just a big group of kids and we're all dedicated."
Inlow's video, titled "BOBCAT POWER," is one of 16 clips from across the country to make the first cut in the contest, which promotes Adidas' Moves Pulse fragrance. The instructions were to submit a video showcasing the best "moves" from the entrant's school. The school featured in the video that wins the contest will receive a $15,000 prize.
The 16 clips remaining in the contest were selected based on a combination of online voting and judges' scores for originality and execution. Inlow's video drew more than 1,000 votes in the first portion of the contest.
From this point on, the contest takes the form of a week-by-week single-elimination bracket, with each matchup decided entirely by online voting. The contest runs until Dec. 12.
Inlow made her video after BLHS strength and conditioning instructor Ross Schwisow saw a magazine ad about the contest and thought the prize money could help stock the school's newly opened Health and Wellness Center, which relies on contributed money for strength and conditioning equipment.
"This could go a long way to helping us," Schwisow said. "We don't have enough equipment."
Schwisow told Inlow, a track athlete who had experience producing videos from a multimedia class, about the contest, and she decided to give it a shot.
"I thought it'd be fun to put it together for our school and just see what would happen," Inlow said.
She shot footage of students in a strength and conditioning class and edited it together with some footage shot by other students during the school's summer conditioning program, a process she said took a couple of days.
Her video showcased the large number of students who participate in the school's strength and conditioning programs, through classes or after-school and summer sessions, she said.
"When we have that big of a group of kids who are dedicated to getting better, I think it's cooler," Inlow said.
Schwisow said about 350 students participate in the programs each week, partly thanks to the bigger space provided by the Health and Wellness Center this year.
"We're able to teach so much and so many more things than what we were doing before," he said.
He said the new building allowed for safer weightlifting and bigger class sizes.
At last week's school board meeting, superintendent David Howard said the school district ended up paying for about $430,000 of the building's $1.4 million cost, thanks to about $970,000 in grant money from FEMA because the building will also function as a tornado shelter.
A $15,000 check would further improve the building's offerings, Schwisow said, and part of the money would likely go toward the school's athletics programs, as well.
The winner will be determined after four weekly rounds of competition. Inlow's video is competing this week against a video from Wilmington High School in Wilmington, Ohio.
As of about 11 a.m. Wednesday, Inlow's video had the third-most votes of the 16 videos in the current round, but it was still trailing its opponent, 362 votes to 294. Voting on this round lasts until 10:59 p.m. Sunday.
To vote in the contest, people can visit pulsefragrance.com and click "VOTE" at the top of the screen to be directed to the bracket, or by going to directly to pulsefragrance.com/ne1. Registration for a username on the site is required to vote. Participants can vote once per day.