VFW

, auxiliary's holiday dinner benefits

VA

hospital patients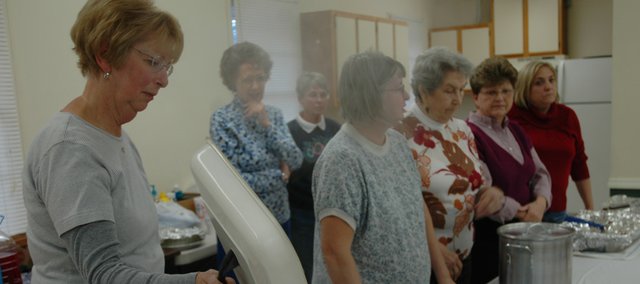 While calls of "B-12" and "I-29" rang throughout the room, a group of women bustled about in the kitchen.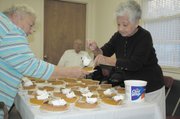 They cut rolls, set out serving spoons and tongs, adjusted decorative pumpkins and topped pie pieces with whipped cream as they prepared to serve a Thanksgiving dinner to veterans in need Saturday at the Bonner Springs Parks and Recreation building in South Park.
"This is one of the really fun things we get to do each year," said Ann Williams, president of the VFW Ladies Auxiliary.
For the last 15 years, Bonner Springs VFW Post 6401 and its Ladies Auxiliary have joined to offer a Thanksgiving dinner for up to 40 patients of the Dwight Eisenhower Veterans Affairs Hospital in Leavenworth. The hospital allows any veteran patients interested to sign up for the bus ride to Bonner Springs about a month in advance.
The auxiliary organize the dinner, which this year included three 20-pound turkeys and 12 pies along with the usual Thanksgiving side dishes. Williams said 15 people prepared this year's dinner for the 38 veterans that signed up to attend, and about 22 volunteers from the VFW and auxiliary were on hand Saturday.
The VFW runs the Bingo game, as they often volunteer to do at the hospital monthly. On Saturday, they gave out $100, $1 to each veteran who won a game. The auxiliary also provided birthday cards with $1 inside for any veterans who had a November birthday.
Jim Jenkins, commander of the VFW post, said the experience was always rewarding because the veterans from the hospital were so thankful for the VFW's efforts.
"They're always a group that just really, really show their appreciation for what we do for them," he said.
Because many of the veteran patients who attend are at the hospital for treatment for drug abuse, Jenkins said he thinks they don't often get the same level of deference as other veterans.
"Most of those (here) are ones that, they don't have anything, and sometimes they aren't appreciated at all," he said. "And we just take them for who they are — it doesn't matter what their background, we just appreciate their service to our country."