KCKCC

retiree looking forward to more Jayhawk basketball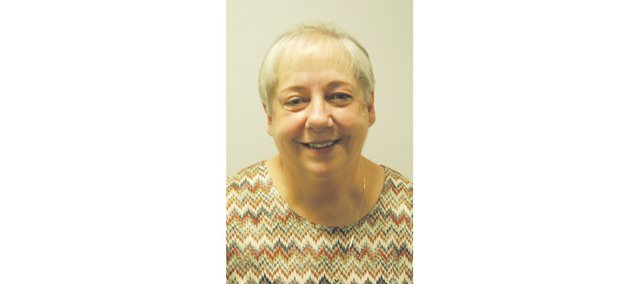 Of the many things Kathy Haworth is looking forward to in retirement, the biggest may be staying up late to watch reruns of Kansas University basketball games.
Bleeding crimson and blue, Haworth is such a big Jayhawk fan that watching a game live is not enough. She tapes it and often watches it again, especially when Big 12 play gets under way. "I want to see what I missed the first time around," says Haworth, who will be honored at a retirement reception ending a 30-year secretarial career at Kansas City Kansas Community College on Tuesday, Nov. 30.
Of course the Jayhawks don't play every night so there's other activities on her retirement docket, including a trip in February to Jamaica, where she and her sister will meet up with a niece and possibly others. And there's grandchildren – five in all. Oldest son Chris and his wife, Jodi, have three girls, Hannah, 10; Morgan, 9; and Riley, 4; Jason and his wife, Lindsay, have a daughter, Shae, 10, and son, Westin, 2½.
"I plan on seeing more of the grandkids," Haworth says. "They're always wanting me to babysit but I'm a little selfish with my weekends. After a full week of work, they're so precious. I also will get to spend more time with my best friend and sister, Marlene. She is 'My rock.' We like to go and eat as well as go to the Argosy and lose our money. And I have my brother's family in Houston whom I adore and will maybe travel there to be with them more often."
There's also bowling each Wednesday night and a love of bridge. "I'm addicted," she admits. "I love to play bridge and play it on the computer with other people. Right now I substitute sometimes but may look into joining a bridge club. Other than that, it will be whatever tickles my fancy. I figure I'll get a part-time job some day to give me something to do but not right away. I'll see what happens and go with the flow."
Born and reared in Kansas City, Kan., Haworth attended Blessed Sacrament grade school before graduating in 1966 from Bishop Ward, where she was a member of the pep and drama clubs and took part in the chorus and theater. "I had a great time in high school going to basketball and football games," she says.
It was also the time she inherited her love of sports from her father, Vincent Glick. "Dad was a huge fan of the Kansas City A's," she remembers. "He would sit on the porch swing with his transistor radio and listen to the games and explain everything to me. It brought a greater closeness to my dad."
Thanks to her brother, Haworth went to work at REA Express at Union Station right out of high school. "The trains were still running and it was a great job," says Haworth. "Compared to my other friends who were working, I was making three times as much money." Unfortunately, railroads quit running as many trains and REA eventually folded.
Marriage replaced working in 1969. "My husband was just back from Vietnam and was stationed in Fort Carson, Colo., so we lived in Colorado for six months. After my husband got out, we moved back to Kansas City and started raising a family." It was not until youngest son Jason was 5 years old that Haworth returned to the work force, joining First National Bank in 1978. "I didn't like working at a bank so I took a summer off."
It was the summer of 1980 when she learned of a job opening for a part-time secretary in the Learning Resource Center at KCKCC. "Part-time then was 30 hours and I was paid $4.30 an hour. Little did I know I'd be here 30 years when I started," says Haworth, who went full-time as the secretary in the nursing lab at a salary of $12,000 a year in 1985. She worked 13 years in the nursing lab, then moved into the math and science division in 1998. Four years later, she moved to the office of the academic vice president and for the last four years has been in the office of the provost.
It was in the early '80s that Haworth fell in love with KU basketball. "My husband went to Wyandotte and liked basketball, and that's when Calvin Thompson from Wyandotte was playing for KU and I got real interested," she says, "I also like the Chiefs. I holler and scream and wonder why they don't run Jamaal Charles because he's on my fantasy team. My sons talked me into getting into a fantasy league. They said, mom, you'll love it.
"And I'm finally getting back into the Royals. Just like my dad, I used to sit on the swing and listen to the Royals back in their heydays. I'd listen every night just to see what George (Brett) did. When he retired, everyone was gone and they had the strike so I just quit."
She also had to get through an anger attack when Roy Williams left KU to return to North Carolina. "I'm just now getting over being mad at him but Bill Self has cured my Roy Williams blues. I've gone to a couple of games but was always in the student section and had to stand all the time. I need to get some good tickets. I really like the kid from Miege, Travis Releford, and hope Markieff Morris catches up with his twin brother, Marcus."
Leaving KCKCC, she admits, is with mixed feelings. "I like my job, I like my boss, I like the people I work with. They're just like family you spend so much time with them and I'm really going to miss them. But I'm not going to miss the daily grind, the same routine every day. It just drives me crazy when I think about it but it was a great 30 years and I'm glad I had them."