Bonner Springs wrestling squad ready to reload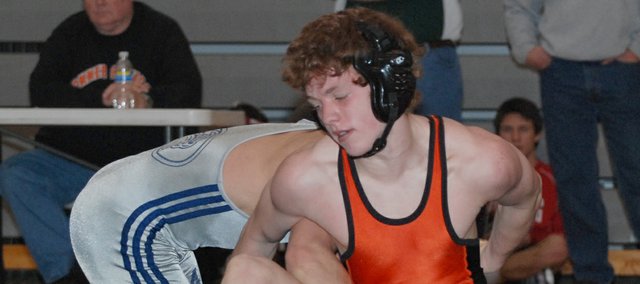 With the exception of longtime standout Caleb Seaton, the 2009-2010 Bonner Springs wrestlers were the new kids on the block.
They boasted a new coach in Brandon Jobe, a talent-laden freshman class of high school wrestling novices and a blank slate regarding expectations.
In just four months, the new-look Braves crafted the most successful season in recent memory. Five Braves qualified for the Class 5A state tournament. Three brought home medals. One reached the state finals.
Jobe hopes the Braves' second act is even better than the first.
"I definitely have high expectations with bringing everybody back, all of our state qualifiers and state placers," he said.
The returning state qualifiers are seniors Caleb Seaton and Brian Callahan and sophomores Justus Seaton, Aaron Puckett and Jonathan Blackwell.
Callahan competed at 171 pounds and Justus Seaton was a 103-pounder last year. Both came one victory away from medaling at state.
Meanwhile, Caleb Seaton wrestled at 119 pounds and placed fourth for the third straight year while Puckett placed fourth at 140 pounds. Blackwell — a 130-pounder — battled his way into the state finals before losing.
Jobe said all of his wrestlers put in significant work during the offseason, the state medalists in particular.
"Our three state placers last year really put in a lot of work this summer; they did a lot of freestyle and Greco," he said. "Blackwell got over 40 matches from the end of the high school season through the summer, so that's really like getting another season of experience. They weren't content with where they finished last season, which is nice to see as a coach."
A slew of new faces also will join the roster this fall. Jobe said about 45 wrestlers showed the first week of practice, up from the roughly 30 who finished the season last year.
Among the newcomers with high expectations are freshman Josiah Seaton, who will be an undersized 103-pounder this season, and junior Mark Hobson, a transfer from Lawson (Mo.) High who placed sixth at 140 pounds last year at the Missouri State Championships.
"He's right around Blackwell and Puckett's size, so that helps us out a lot," Jobe said. "He's a hard-working kid, and he's getting in there and mixing it up with some of our better guys."
Jobe said he expected Josiah Seaton to wrestle at 103 pounds, Justus Seaton to compete at 112 and Caleb Seaton to move to 125. In addition, Blackwell, Puckett and Hobson likely will fill out 135, 140 and 145 in some order, and Callahan will compete at 189. A large freshman class includes numerous wrestlers who will vie for some of the heavier weight classes to help fill out the lineup.