County makes janitorial expense cuts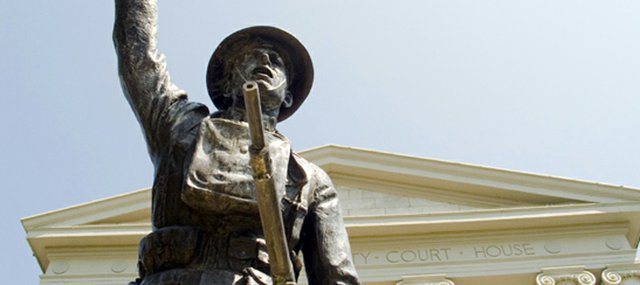 Leavenworth County will cut back on its janitorial expenses next year, although it will mean some county employees will have to add cleaning and vacuuming to their list of duties.
The Leavenworth County Commission on Thursday voted 3-0 to authorize the public works department to negotiate with Leavenworth Cleaning for next year's county janitorial contract for no more than $180,000, pending a legal review regarding liability insurance.
This year's janitorial contract, also with Leavenworth Cleaning, paid the company about $236,000, said county buildings and grounds director John Forslund.
Forslund said the reduction of about $56,000 would be possible because county departments in the courthouse and the health department would take care of some of their own vacuuming and cleaning. Departments operating out of the county Justice Center, where the district court and sheriff's office require more specialized services because of security requirements, will continue to use the janitorial service.
Forslund said Leavenworth Cleaning's experience in that area was a big reason the public works department chose to award the contract to the company.
"We wanted a firm that is very familiar with working with high-security areas and sensitive records," Forslund said.
Public works director Mike Spickelmier said staffers with the county departments he'd met with were willing to accept more cleaning responsibilities if it meant savings for the county.
"We spoke to all the departments, and I think everybody's on board to try to make this work," Spickelmier said.
Also during Thursday's meeting, the commission:
Voted down, 1-2, a request to transfer $12,000 from the Board of County Commissioners Technology Fund to a county GIS department reserve fund for aerial photos. Commissioners J.C. Tellefson and John Flower voted no. Tellefson said he didn't want to approve the request because it may require a budget amendment, and he said the commission would make sure the GIS department received the money by the time it was needed. The department takes aerial photos every four years.
Authorized, 2-1, a $10,000 expenditure to match a grant received by the Carroll Mansion in Leavenworth.
Met for a total of 40 minutes in executive session to discuss non-elected personnel.
On Monday, the commission:
Voted 2-1 to authorize the county Transfer Station to accept compost-ready grass and leaves from commercial businesses and residents free of charge, and to reimburse Leavenworth business owner Buddy Rodgers for a $40 fee he was charged at the station. Flower voted no.
Declined to allow an Emergency Management employee to carry 10 paid leave days over into 2011 (no motion was made).
Voted 2-1 to designate $12,000 from the BOCC Technology Fund as going to the GIS aerial photo fund, rather than immediately transferring the money as was requested in Thursday's meeting.
Went into executive session for 15 minutes to discuss non-elected personnel.
Voted 3-0 to allow the county to transfer three irregular, unbuildable and unmarketable pieces of property along county roads to owners of adjoining property.
Voted 3-0 to negotiate with DRG to be an engineering consultant for two bridges along County Road 5.