Salon owner opens up shop in her hometown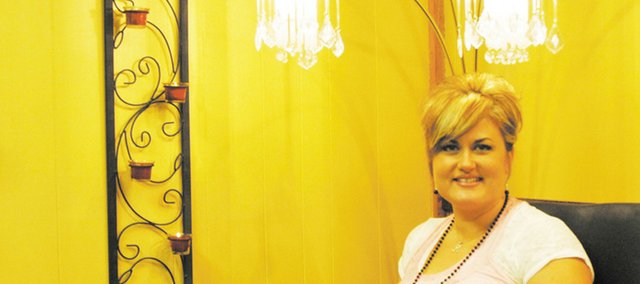 Karen Slinkard is happy to bring her business to her hometown.
Slinkard opened her new hair salon, Karen's Salon, Saturday at 619 Front St. in the Bonner Shops. The Bonner Springs native said she hoped to bring a fun, relaxing atmosphere with her salon and make sure that her customers felt pampered.
Slinkard was raised in Bonner Springs and graduated from Bonner Springs High School. She began in the salon business as a nails aesthetician in 2003 and started cutting hair in 2005.
"On my mom's side, they're all artists, and on my dad's side, they're all hairstylists, so it runs in the family," she said.
She previously owned a salon called Hair Raisers in Prescott, outside of Fort Scott, and said her family recently moved back to the area because she missed her hometown.
While she lives in Edwardsville, when it came to finding a location for her new salon, Slinkard said she knew it had to be in Bonner.
"I had to start a business here because I loved it so much," she said. "I love working for myself… I like the feeling of being home."
The spot she found in the Bonner Shops shopping center had been a salon for 25 years but had been vacant since 2007. Slinkard spent several weeks renovating the space, but she kept the chairs and hair dryers that were left behind, which give the space a retro look.
Slinkard said she hoped her customers would feel relaxed and at home when they were in her salon, and she said she had done a price comparison to ensure she offered the most reasonable prices in town.
"We are just as down-to-earth as you can get," she said. "… I want people to come in and get away from their crazy life and leave the door feeling beautiful."
In addition to hair services, Slinkard will offer manicures and pedicures, though she said she likely would not provide acrylic services, opting to focus more on natural nail care and hand and foot massages, which she said was all part of creating a relaxing atmosphere.
"I pamper the heck out of people," she said. "You definitely get more for your money with me."
Though Prescott is an hour and a half away, Slinkard already has a couple of her old customers there make appointments in her Bonner salon. She said she hoped her luck in Prescott would continue now that she's back in her hometown.
"For a small town, we were booked," Slinkard said. "So I'm doing something right."
In the future, she plans to add a small boutique area to the salon for purses and jewelry, and she also plans to bring in more hairstylists.
Karen's Salon is open 10 a.m. to 7 p.m. Tuesday through Thursday, 9 a.m. to 5 p.m. Fridays and 9 a.m. to 1 p.m. Saturdays. It will be closed Sunday and Monday, but a special appointment may be made on those days or before or after hours on regular days if a customer requests it in advance.