VFW

serves up Thanksgiving meal for Basehor community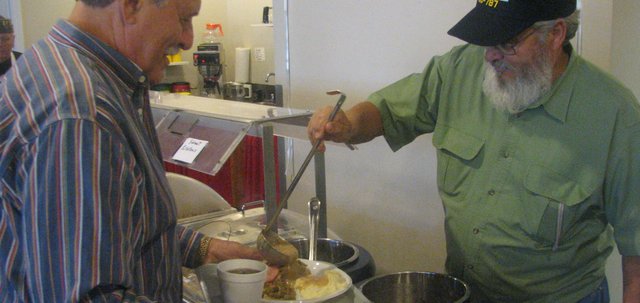 Fred Box spent his Friday cooking seven turkeys and about 30 pounds of ham.
It was worth it on Saturday, when Box, the commander of Basehor VFW Post 11499, and other VFW volunteers watched about 150 people enjoy the fruits of their labor at the post's community Thanksgiving dinner.
"I've lived here all my life, and being commander, I like to give back to the community I've lived in all these years," Box said.
The post served up a buffet-style Thanksgiving meal — complete with turkey, ham, stuffing, mashed potatoes, green beans, pumpkin pie and more — for Basehor citizens, and it was free for senior citizens.
Box said it was a way for the post to get in the spirit of the holiday by giving thanks.
"This is our way of saying thank you to the city and helping support the senior citizens in town," he said.
One group of women sitting at the end of a table, some of whom have lived in Basehor for several decades, were enjoying that gesture Saturday as they ate and talked, with loud laughs erupting regularly.
"We're going to go out flapping our wings" from eating so much turkey, joked Rose Fantasia, drawing laughs from Audrey Kelley, Katheryn Creten and former Basehor mayor Anna Mary Landauer.
Landauer, who moved to Basehor in the 1940s when the population was around 340, said the Thanksgiving meal, as well as the VFW Post's regular dinners and breakfasts, gave people great opportunities to get together with friends.
"They've touched the hearts of a lot of people," Landauer said.
Fantasia said the reason she came out for the meal was simple.
"Fellowship," she said. "And a good dinner."
Box said the post moved its third annual Thanksgiving to a Saturday afternoon after the first two took place in the evening, in order to make it more accessible to senior citizens who may not drive at night.
He said it was important for the community to give back to its seniors.
"A lot of them are just living off of Social Security," Box said. "There's a lot of them that don't have families anymore — their husband passed away, or their wife passed away. They get to see people they know."
Doris Mogle of Basehor said she was glad the event moved to the afternoon, and the meal gave her a chance to catch up with friends.
"You can see people you don't see for the rest of the year," Mogle said.
Also in attendance were Mayor Terry Hill, city administrator Mark Loughry and several city council members.
VFW Post members cooking and serving the food were helped by students from Bonner Springs High School and Basehor-Linwood High School doing community service, who served drinks and helped clean pans.
Box said the post raised about $100 for its Wreaths Across America effort. In December, the post places wreaths on the graves of fallen veterans as part of a national program.
The post, at 2805 N. 155th St., also offers regular Saturday dinners and breakfasts. On the first and third Saturdays of each month, the post provides dinner and music from 5 to 8 p.m., and on the second and fourth Saturdays, it offers breakfast from 7 to 10 a.m.