Tonganoxie resident reverses fortunes to win 'Wheel'
Comeback adds up for local accountant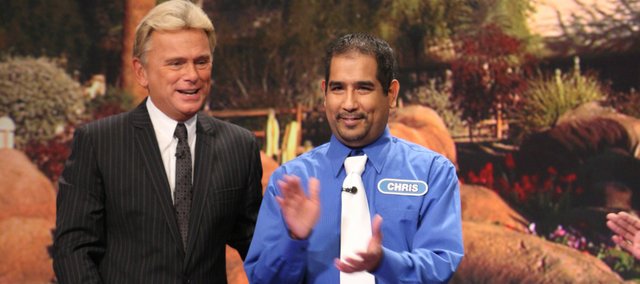 Erin Albert thinks the advice she gave her husband before he appeared on the game show "Wheel of Fortune" may have backfired.
"I think I jinxed him," she said.
Erin first told Chris Albert to do his best and have fun. She knew Chris, an accountant, was good with number and word games, she said. But as he prepared for his appearance in California, she called with instructions: Avoid acting on something else she knew of him.
"She told me, 'don't get greedy. If you know the puzzle, solve it. I know how you like to gamble,'" Chris said, as the Tonganoxie couple were the hosts of a gathering Friday at the Speedway Bar and Grill in Kansas City, Kan., to watch his appearance on the popular game show.
As it was, Chris didn't have much of a chance to build cash. Before a late comeback, his experience was one spin and out.
"Four of the five times I spun the wheel, I hit bankrupt," Chris said. "I was pretty frustrated. Honestly, after the last time, I wanted to quit and go home."
The one time he didn't hit bankrupt, he asked for the letter "T" while looking at a blank 18-letter puzzle. It was a safe and smart move, but there was no T.
Adding to the frustration was that after some early stage fright, he knew the answer to every puzzle, Chris said.
Chris' road to the show began six months earlier when he received an invitation to be part of an April 1 contestant search in Kansas City after filling out an online application.
The audition consisted of two screen tests to gauge potential contestants' camera presence and game skills, Chris said. From that, the field of potential contestants was culled to 17, who were taped playing mock games.
"When they let us go, they said you would receive something in the mail in two weeks if you were selected," he said. "It was two weeks to the day, I got the letter."
Chris said he practiced the game before leaving a few days early for the Aug. 12 taping in Southern California.
"I wanted to get some rest and get rid of any jet lag," he said.
With Erin unable to get away from her job as manager of a Eudora branch bank, Chris was alone until two friends from Wichita, Kimberly and Radley Brooks, joined him in Southern California the day of the taping.
"I felt bad because they caught the red-eye out to watch me, and I kept hitting bankrupt," he said.
Chris' luck changed when the game's frontrunner, a woman on his right, solved what could have been the show's last puzzle too quickly. That left time for one more lightning-round puzzle, which turned out to feature $6,000-per-letter scores that were cumulative. But both women contestants would have a crack at it before Chris.
"The woman on the left called for a vowel, and I knew what it was," he said. "I was worried about the woman on the right, because she was pretty good. When it was her turn, there's a clock you can't see on TV that counts down from five. When it got to three, I knew she didn't know the answer."
Realizing it was the only double consonant left, Chris asked for "G," and solved the puzzle. That gave him $25,000 total, enough to overtake the leader.
"It was down to the wire," he said. "When I solved the last puzzle, you could feel the excitement. I was kind of a comeback story."
Chris' good fortune continued in the bonus round when he picked enough letters to solve the puzzle "Act of heroism." He learned he would win another $45,000 when show host Pat Sajak opened an envelope Chris received with a spin of the wheel before the bonus round.
The check for his winnings won't be sent for 120 days, or early next year, Chris said. California state and federal taxes will take about 38 percent of the $70,000, the accountant estimates.
The family will take a trip to Disneyland but much of the winnings will be put away in college funds for the Alberts' two sons, Chamberlain, 1, and Houston, 3, Chris said.
His wife agreed, with a possible exception.
"Maybe a new car," Erin said.