'

Eco-Troubadour' talks environment at

BLMS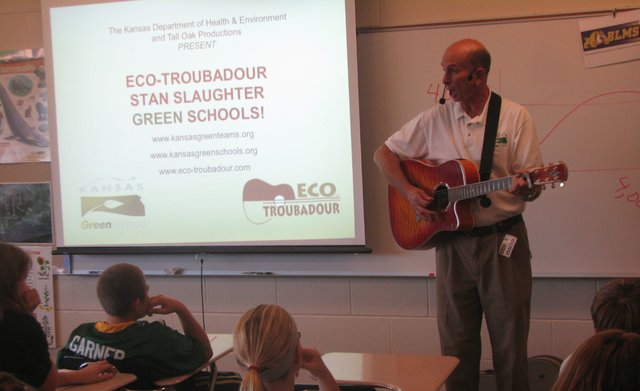 Stan Slaughter tells children that the United States produces more waste per person than any other country, but it's not because he blames them. He just thinks they may be the key to changing things, he said.
"It started a long time ago," Slaughter told sixth-grade students at Basehor-Linwood Middle School on Friday. "It's not your fault."
Slaughter, who bills himself as "The Eco-Troubadour," is a former science teacher who travels to schools to teach children about the environment with the help of his acoustic guitar and songs about waste, recycling and ecology. He visited teacher Christine Sanders' sixth-grade science classes at the middle school Friday through his work as a contractor for the Kansas Department of Health and Environment.
Slaughter said one advantage of reaching children with his earth-friendly message was that they tend to be, well, influential in the home.
"If they can make you buy Reeboks, they can make you recycle," he said.
In one class Friday afternoon, Slaughter began with a version of "Garbage," written by Bill Steele, modernized with a few lyrical tweaks. When he got to the call-and-response chorus, he sang, "We're fillin' up the land with garbage," and the students, who'd prepared for this, echoed, "Garbage! Garbage! Garbage!"
"This was written in 1969, at a time when pollution was a lot worse than it is today," Slaughter told the students. "And we still do kind of the same things. We grab stuff, use it once and throw it away. When you do that, you end up with a lot of garbage."
For the rest of the hour, Slaughter told the class of ways to reduce various forms of "garbage": solid waste, pollutants in the air, dead zones in the sea and others.
He talked about how composting can turn much trash into fertilizer rather than shipping it to a landfill; how recycling and especially reusing can help people use what they already have instead of making something new; and how the flat, gusty expanse of Kansas could help supply much of America with power from wind turbines.
He gave the students a list of small changes they could help with to make their school greener – composting cafeteria trash, using timed power strips in computer labs or just taking the time to pick up trash around the school grounds.
Sanders said she invited Slaughter to her classes partly to get such ideas circulating in the children's brains before the launch of the "Going Green" club she's starting for students. It meets for the first time today.
"The cool thing about kids this age is that they want to do things – they just aren't sure how to do them," Sanders said.
She said the club would start out by helping with the school's recycling, cleaning up the school grounds, and perhaps adopting a road.
Sixth-grader Isaiah Foley, one of Sanders' students, said he planned to join the club because of his interest in science and in stopping pollution.
"I made my mom get a recycling bin for paper," he said.