Local youths take stab at culinary creations for library event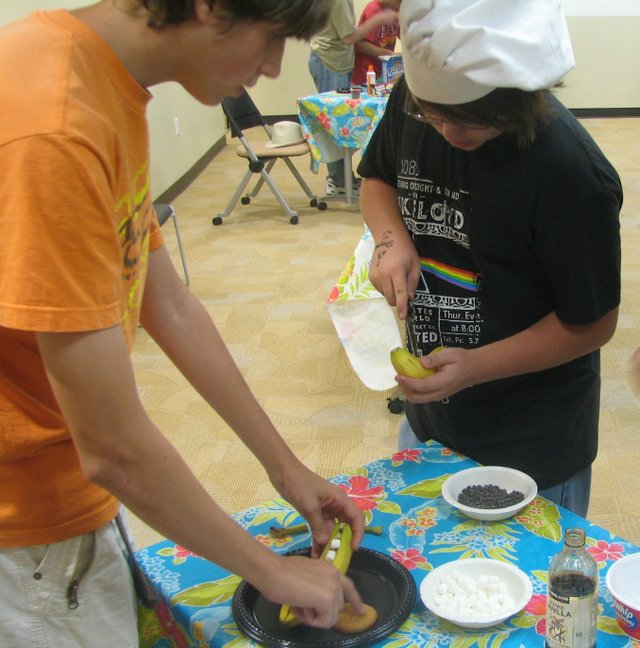 The groups of teenagers whispered plans to each other as they scanned the table full of potential ingredients: apples, pudding, coconut flakes, spray-can cheese, frosting, graham crackers and a host of others.
Not long after they found out about the mandatory secret ingredient — bananas — it was time to start. They had about 30 minutes to craft the best dish possible, armed with a blender, a microwave and a few utensils.
This was "Teen Iron Chef," the Basehor Community Library's version of the Food Network competition "Iron Chef" for students in grades 6-12. On Thursday, Sept. 30, 16 teenagers in five teams competed for the eyes and the taste buds of volunteer judges.
"You not only have to make it taste good and make it original, but you also have to make it look good," teen services librarian Amy Schaffer told the entrants.
In the limited time available, the teen chefs had to produce three identical dishes for each of the judges – four if they wanted to keep one to eat for themselves.
The results, the judges agreed, were impressive.
"I got some flavors I've never tasted before," judge Dean Weddum told the competitors. "It's good to know you all have a lot of creative juices amongst you."
First place went to a team of four Basehor-Linwood High School seniors: Jenna Bolend, Jenni Brown, Cari Keck and Ashley Morris. Their dish, which they called "Fandango Surprise," was a peach-banana applesauce shortcake.
"It was so good we were eating all the rest of it, the whole time," Brown said.
They took a different approach from the other teams, all of which used more sweet ingredients such as marshmallows and chocolate syrup.
"I thought it was something you could eat at a restaurant," said judge Chris Garcia.
BLHS sophomores Patrick Williamson, Lee Maughmer and Ben Forshee used recipes they'd used before — "Bananas on the Go," whole bananas stuffed with marshmallows with cookies for "wheels," and "smorito" raviolis, which replace the graham crackers in s'mores with tortillas.
"It's good training for when we actually do go on 'Iron Chef,'" said Williamson, who got into the spirit by wearing a chef hat.
Juniors Brian Hershey and Josh Teeters and freshman Spencer Brown constructed a three-layer "Tower o' Power" that included tortillas, chocolate chips, raisins, pineapple and apples and was topped off with marshmallows and a cherry on the top layer. The structures were held together with toothpicks.
"I really like how it turned out, but I feel if we had more time we could have made it more amazing," Hershey said.
Schaffer said the participants took the competition seriously enough that she planned to hold more events like it later on.
"It was a great level of enthusiasm they had," she said. "Hopefully, next time the crowd will be even larger."