St. James Academy uses day to serve
St. James Academy students set out Friday afternoon to make the world a better place.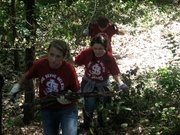 The students participated in the school's fourth annual All-School Service Day, shipping off to organizations such as Harvesters and the Wyandotte County Pregnancy Center.
Typically, the school hosts Serve Day in the spring, but because of a busy spring with prom and graduation the day was moved.
Dana DeLeersnyder, senior, helped plan Serve Day as a member of the Christian Leadership Class.
The class met every other day since the beginning of the school year to coordinate the event, she said.
"We made sure everyone had a T-shirt, a permission slip and the transportation was set," she said.
The class contacted organizations in the community that had expressed interest in receiving help, said Devin Feist, senior.
"We talked to a ton of organizations like retirement homes, Harvesters," he said. "We started about the second week of the school year."
Katie Goebel, first-year St. James teacher, said the Christian Leadership Class did a fantastic job of preparing students for Serve Day.
"The students did everything from calling the various agencies to fundraising for financial support to creating a prayer service for the morning of Serve Day and a reflection service for when we returned to school," she said. "They worked very hard and I'm so proud of them for their accomplishments.  The day was a great success thanks to their efforts."
Dana said the students performed a variety of tasks at each organization.
"We split into classes with a few classes going to each site," she said. "I went to the Wyandotte Pregnancy Center with a few other classes. We did a lot of stuff from working outside to organizing paperwork and sorting clothes. By us going there we're helping them to better help the people they do."
Goebel said the day gave students an opportunity to put actions to their words.
"Now having experienced Serve Day myself, I see it as a great opportunity for our students to not just talk about making a difference in the world but actually step out and make a difference in the lives of others in the greater Kansas City community," she said. "And in the end, we see that not only does it impact the communities we serve, but it also impacts the community we are at St. James."
Devin said Serve Day also brought students closer to their faith.
"It's nice for us to get out and serve the community like Christ would have served his," he said.
Dana hopes the service made an impact on all students.
"I hope that by planning for the whole school we can lead by example," she said. "I hope the underclassmen can look up to us and live as good Christian leaders, not just at school but in the community."
Goebel said Serve Day also creates a community out of St. James students.
"As a Catholic school, we're always talking about the importance of serving others.  Serve Day gives us a chance to do that as an entire student body," she said. "Whether we're helping with food distribution at Harvesters or playing with the kids at Operation Breakthrough, we're united in serving a mission much bigger than we sometimes realize."