BLHS

golfers 6th at home tourney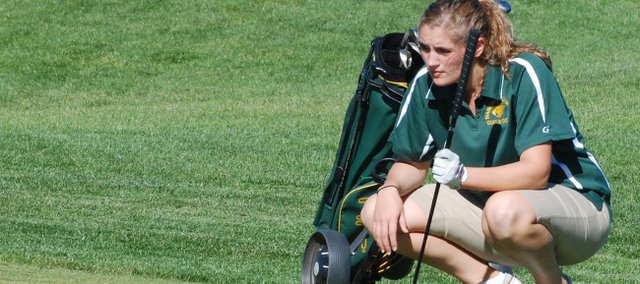 Basehor-Linwood first-year golf coach Noah Simpson knows plenty about scheduling tough competition.
Photo Gallery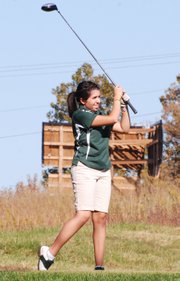 BLHS golfers compete at Basehor-Linwood Invitational
Simpson — who will be entering his fourth season as the BLHS girls basketball coach this winter — has spent the past three seasons on the hardwood scheduling some of the biggest schools and toughest opponents in the area.
His philosophy is simple: Play the best so you can find out just how good you can be.
In basketball, Simpson's teams have advanced to the state tournament in two of the past three years.
Simpson's golf squad placed sixth on Thursday at the Basehor-Linwood Invitational at Falcon Lakes Golf Course in the squad's final tune-up before Tuesday's Class 4A regional tournament, and Simpson said he sees the same stars aligning on the golf course that have aligned in basketball during recent seasons.
"I'm a firm believer that the harder the competition is, the better you're going to be in the end, and I think it really does ring true in all sports," Simpson said. "In basketball it's been huge for us over the last three years, and watching this unfold in golf now — and hopefully it'll unfold completely for us on Tuesday — but it's just been fun to watch us really compete and look at the fact that we're getting better and better. It's because of the fact that we're playing against really good people and we've got to push ourselves."
Blue Valley Northwest won the tournament with a team score of 386, the Mill Valley-De Soto combined squad was second with 404, St. James Academy was third with 422, Topeka Hayden finished fourth with 429 and Turner was fifth with 439. BLHS had 440.
Hayden's Brooke Larue won with an 80 on the par-72 course, and Brittany Fuller of BVNW was second with 87.
Basehor-Linwood has played a schedule full of Class 5A and Class 6A opponents as well as Class 4A schools throughout the season, and the Bobcats have played their tournaments in a part of the state where girls golf is particularly strong.
Thursday was no different, and Simpson said his team rose to the occasion.
Simpson said the greatest benefit Thursday was the simple fact that the Bobcats played 18 holes.
"A lot of the tournaments we've done recently have been nine holes, so getting the opportunity to go out and walk 18 and start to work on the mental aspect again (was good for us)," he said. "That's why I'm so glad we scheduled this tournament in October like we did. Playing against competitive people like we did today is awesome too, because it make us push ourselves."
Nicole Vasquez led BLHS with a 17th-place finish. She shot a 104 and was consistent with a 52 on the front nine and 52 on the back side.
Marissa Dove placed 23rd with a 109. She shot 52 on the front nine.
Rachel VanFleet fired a 113 and placed 26th, Samantha Espinoza was 28th with a 114 and Brooke Schleer placed 45th with a 132.
Simpson said he hopes his team can build on its performance by having a good day at regionals.
"I'm extremely encouraged about what we can do on Tuesday," he said. "I'm very excited about the opportunity that's there for us, and I think that if we can shoot to our potential — which I think we'll do better than that — but if we shoot to our potential, I think we've got a chance to do some damage out there."