Basehor holds off Mill Valley in thriller
39-34 victory gives
BLHS

second straight

KVL

championship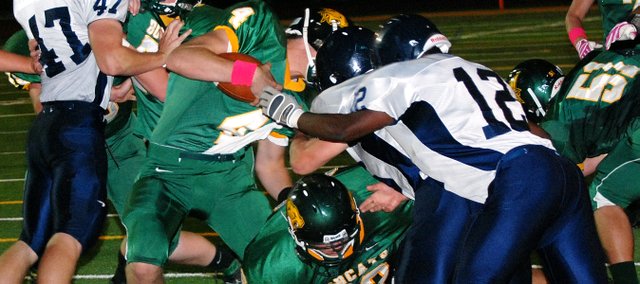 District play doesn't begin until next week, but Mill Valley and Basehor-Linwood were in playoff mode for their football showdown Friday night at BLHS.
Photo Gallery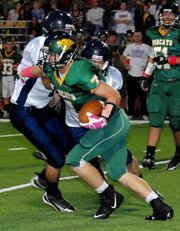 Basehor-Linwood 39, Mill Valley 34
At stake was the Kaw Valley League championship, and the Jaguars and Bobcats delivered enough defensive highlights and big-play touchdowns to ensure that the outcome was in doubt until the final seconds ticked off the clock.
In the end, Basehor prevailed, 39-34, and won its second straight league title.
The greater prize, BLHS coach Steve Hopkins said, was the improvement that both squads made just in time for district play.
"I just told three of their coaches 'that made us both a whole lot better,'" Hopkins said moments after the game ended. "I'm sorry for their part of it that they have the 'L,' but it made them a better team, and I certainly believe this made us a better team."
Despite the loss, first-year MVHS coach Joel Applebee agreed.
"The atmosphere tonight … it was a playoff-type atmosphere," Applebee said of the raucous, standing-room-only crowd on both sides of the stadium. "That's the type of atmosphere you want to be in every week, and you can learn a ton from that. I think the last two weeks we've really shown that we're improving. Now is the important part of the season, and the thing is that we have not regressed. We've progressed this week, and that's a good thing."
There was plenty of good from both squads Friday night as they produced a dandy of a contest for the spectators.
The first half was a defensive struggle, while the second half was an old school shootout.
Basehor's opening drive ended when Justice Oehlert picked off a Colin Murphy pass and returned it near midfield. The Jaguars promptly drove 56 yards on eight plays — three of them passes to Dylan Floyd — before quarterback Skyler Windmiller tucked the ball and dashed 10 yards to the end zone. Mark Biesma's extra point made it 7-0 with 6:29 left in the first quarter.
Basehor answered on its next drive as it drove 72 yards on six plays. A 27-yard completion from Colin Murphy to Ryan Murphy, followed by a 33-yard scamper by Colin Murphy, took care of most of the yardage. Colin Murphy then scored on a 2-yard keeper up the middle. The 2-point conversion failed, but the Bobcats were within 7-6 with 4:27 left in the opening quarter.
After trading punts, Mill Valley's third drive ended when Skyler Ross picked off a Windmiller pass, but the Bobcats quickly went three-and-out. Mill Valley took advantage of the punt and crafted its second scoring drive of the half. This time, the Jaguars went 52 yards on nine plays and scored on a 13-yard touchdown pass from Windmiller to Staton Rebeck.
Mill Valley's 14-6 lead didn't last long. Basehor scored two minutes later. First, Colin Murphy lofted a 35-yard bomb to Ben Johnson. Then, Murphy scrambled for a 26-yard pickup before Jesse Hiss powered into the end zone from 7 yards out. The conversion attempt failed and the Bobcats pulled within 14-12.
Mill Valley punted on its next possession, but the Jaguar defense quickly forced BLHS into a three-and-out. The ball hit a Jaguar, and Basehor's Tanner Garver pounced on it. With new life and time winding down in the second quarter, Colin and Ryan Murphy hooked up on a 39-yard pass that set up first-and-goal at the 4. Mill Valley's goal-line stand was successful, however, and Jake Theis picked off Colin Murphy in the end zone on fourth down to preserve the 14-12 lead at halftime.
Basehor opened the second half with an onside kick. Dalton Mellies recovered it, and six plays later the Bobcats were in the end zone as Colin Murphy connected with Ryan Murphy for a 14-yard touchdown. The conversion failed, but BLHS led 18-14 barely two minutes into the second half.
Mill Valley scored just over two minutes later on a 10-yard pass from Windmiller to Colin Wistuba. The extra point sailed wide to the right, but MVHS took a 20-18 lead.
Basehor struck back with an 80-yard touchdown drive. Colin Murphy scattered passes to four different receivers on the drive, but his primary target — twin brother Ryan Murphy — ended the drive with a 23-yard catch on a fly pattern down the right sideline. Garret Kahle ran for the 2-point conversion and gave BLHS a 26-20 lead with 4:55 left in the third quarter.
The Jaguars struck again just 1:18 later when, after four straight runs by Kyle Brunson, Biesma made a leaping catch for a 42-yard touchdown. Wistuba threw to Jeremy Spalding for the 2-point conversion, and Mill Valley was back on top, 28-26, with 3:37 left in the quarter.
Again, Basehor answered. This time the Bobcats put together a 12-play, 79-yard drive that lasted more than four minutes. They shook things up a bit by moving Colin Murphy to receiver and inserting Tanner Garver at quarterback. The lineup gave BLHS three big receivers — Johnson and the Murphy twins — and the drive ended with Garver finding Colin Murphy for a 19-yard touchdown. That put BLHS ahead, 32-28, early in the fourth quarter.
The BLHS defense forced Mill Valley into a three-and-out, and then the Bobcats went back to work on offense. After a mix of runs by Colin Murphy, Jesse Hiss and Steyr Stubenrauch, the Bobcats pulled out a trick play. Colin Murphy threw a backwards pass to Nathan Quigley on the left side. Quigley then fired to a wide-open Ryan Murphy in the end zone for an 11-yard touchdown. Kahle kicked the extra point for a 39-28 lead, but the game was far from over.
With limited time, Mill Valley was forced to turn to the air. After three straight incomplete passes, Windmiller was forced to scramble on fourth down. He was tackled from behind by Johnson, and it appeared the Jaguars' luck had run out.
They got the ball back one play later when Hiss fumbled.
This time, Windmiller hit Wistuba for back-to-back completions. Then he found Biesma twice for gains of 9 and 17 yards. Two plays later, he connected with Ethan Rice for a 2-yard touchdown. The 2-point conversion failed, but the Jaguars were within 39-34 with 3:01 to go.
Needing another possession, Mill Valley lined up for an onside kick. Biesma struck it perfectly, and Blake Miles recovered it for the Jaguars at their own 48-yard line.
"The kids don't quit," Applebee said. "They've worked too hard to quit. They've worked way too hard, and they understand that when they put that amount of effort in there, there's no quit in them."
This time, however, the Basehor defense held firm and on fourth down Colin Murphy intercepted Windmiller to snuff out the Jaguars' final opportunity.
Windmiller completed 16 of 24 passes for 236 yards, four touchdowns and two interceptions to lead the MVHS offense. He also ran 21 times for 80 yards and a touchdown. Brunson had 20 carries for 114 yards, and Biesma caught four passes for 108 yards and a touchdown.
For Basehor, Ryan Murphy caught 13 passes for 196 yards and three touchdowns.
Colin Murphy was the biggest player in the biggest KVL game of the season as he had passing, rushing and receiving touchdowns in addition to making an interception. He completed 16 of 28 passes for 249 yards and two TDs. He also ran 14 times for 126 yards and a touchdown, and he had a 19-yard touchdown catch.
"He was angry that we weren't letting him play more defense," Hopkins noted. "He still has a terrible back and he still cannot practice at full speed, just in short bursts, but he never asks to come out. You can tell he's in extreme pain, so what we had to do was try to limit him, and yet he was very upset with me that he did not play defensive back more than he did. But he's a playmaker, and he wants to be on the field when plays need to be made."
Basehor improved to 6-0 with the victory and wrapped up a second straight league title, but the Bobcats still have work to do.
"Winning league is great, but that's not our goal," Colin Murphy said. "We want to win our district and make a run in the playoffs."
BLHS will open district play at 7 p.m. Friday at Jefferson County West — the same team that knocked the Bobcats out of the Class 4A state playoffs last year.
"Our kids have a very bad taste in their mouths from a year ago, and yet not in a negative way," Hopkins said. "They respect that team tremendously, and they want to go to their place and not exact revenge as much as measure ourselves. We feel like they measured themselves against us last year, and they were superior. They were tougher; they were more determined; and our kids are determined not to let that be the case this year."
Meanwhile, Mill Valley (4-2) will open Class 5A district play at 7 p.m. Friday at Bishop Miege — the 2009 4A state champion.
"They're very good. I think they've got three Division I athletes on their sideline," Applebee said. "It takes a team, and that's the thing about it. Everything we preach week in and week out is that we win as a team, we lose as a team, and we're trying to improve as a team. We'll look at the film, but coming up this week we're excited about (playing Miege). It's always fun to go play a good team; that's what you want week in and week out."