Family, friends remember three people who died Sunday night in Leavenworth County accident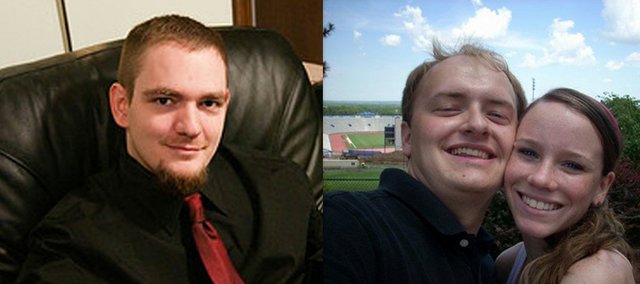 Three people — a pair of Kansas University students who had been dating since their high school days and a 30-year-old Basehor man — died Sunday night in a violent crash on Kansas Highway 32.
The accident happened about one-tenth of a mile west of 214th Street on K-32.
Friends and family members, many still recovering after hearing the news of the deaths, remembered the three of them on Monday.
Stephanie Conn, 22, and Jake Henry, 21, were killed when their car collided with a second car driven by Mathew Nuzik, a 30-year-old Basehor man.
Nuzik also died at the scene. According to police, Nuzik's 2008 Subaru Impreza was trying to pass another vehicle while traveling east on the highway when it collided head-on with the 2002 Saturn sedan that Henry was driving west.
Nuzik grew up in California, said his mother, Chris Nuzik, and graduated from Tonganoxie High School before moving to Basehor about 10 years ago.
Her son, who was married but had no children, had earned an associate's degree from Kansas City Kansas Community College and worked for ADT Home Security. She described him as something of a computer nerd and a "sweetheart of a guy."
"I just know that I miss him a lot," his mother said.
Conn and Henry both attended Bonner Springs High School, and had dated during much of their time there, friends and teachers said. In their yearbook senior year, they had been voted "cutest couple," said Rick Moulin, assistant principal at the high school.
"They were model students with really, really high character," Moulin said. "The kind of kids as a parent you'd hope your kids would act like."
Chris Wood, a senior English teacher remembered how Henry would always have a smile on his face, and was always creative and willing to think.
"They were a very inclusive couple," said Wood, and didn't have cliques they hung around with.
Henry played the trombone in high school, and enjoyed golfing, said Zach Holder, a KU junior from Bonner Springs who knew both Conn and Henry.
Holder said the two were always together. They had lived together for two years, he said, most recently in an apartment at Meadowbrook.
"They were just both great people who loved to have fun," he said.
Henry — a senior who was majoring in sports management — had been working at the Nike Factory Outlet at the Legends in Kansas City, Kan., Holder said. Both enjoyed going to KU football and basketball games, and camped out for seats.
Both loved music — Conn, a junior at KU majoring in psychology, sang in the choir both in high school and at KU, and played in several school musical productions.
Both were involved in National Honor Society in high school, Moulin said, and Conn played tennis and softball in high school, while Henry played on the golf team.
"It's a really sad day," Moulin said. "These two kids really meant a lot to our faculty and our school. ... A lot of people are in shock."