Maple Leaf time
Fall festival this weekend in Baldwin City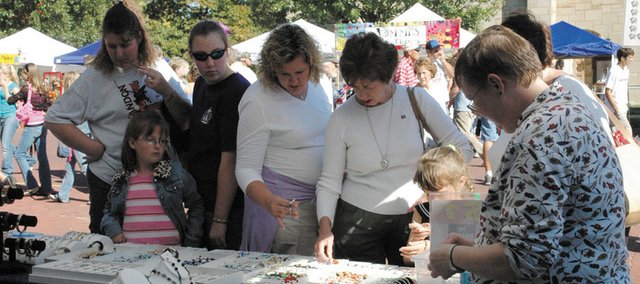 Every fall, on the third weekend in October, thousands of people descend on Baldwin City in southern Douglas County for the annual Maple Leaf Festival, billed as the area's largest fall family festival. The festival's official Web site and committee provides answers to questions about the event.
Q: When was the first Maple Leaf Festival?
A: Started in 1958, the Maple Leaf Festival began as a community event inspired by Dr. Ivan Boyd, a biology professor at Baker University.
Q: Why is the festival on the third weekend in October
A: Boyd noted that the third weekend in October was the optimum time to view the changing colors of the Maple Leaves in the area and the perfect time to celebrate the successful harvest.
Q: One of my favorite activities at the Maple Leaf Festival is viewing all of the various items on sale at the booths that line the streets around Baldwin City. What can you tell me about the booths?
A: The Maple Leaf Festival prides itself on offering a wide variety of handmade crafts from across the country. Booths line the main streets of town, Eighth and High, and populate the local fire house. Craft booths (both indoor and outdoor) are open from 9 a.m. to 6 p.m. on Saturday and 9 a.m. to 5 p.m. on Sunday. Arts and crafts booth items are restricted to hand-made arts and crafts only.
Q: What time and where is the parade?
A: The parade begins at 11 a.m. at the corner of Third and High streets and heads west down High Street. There, it will turn north on Sixth Street and continue to the corner of Sixth and Chapel.
Q: Besides putting on the festival, what else does the festival committee do?
A: When the festival is over, the Maple Leaf Festival Committee continues to enrich the lives of the Baldwin City community. Two scholarships are offered yearly as well as donations to local educational institutions and non-profit organizations to enhance arts, education and community pride.