Benefit car show bears message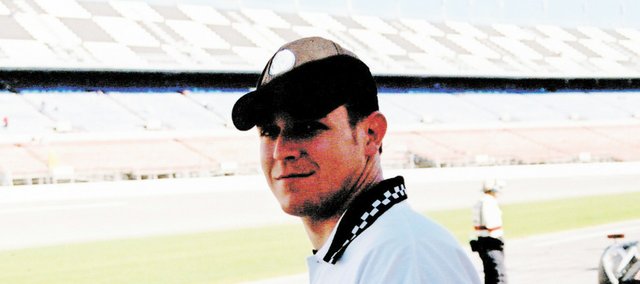 Dorian Comeau's world changed on May 14.
That's the day the Lenexa resident and a friend, Thomas Lodigensky, took a dune buggy out for a test drive and wound up in an accident that would leave Lodigensky dead and Comeau paralyzed from the neck down.
Take a drive
The Drive to Survive event will be from 9 a.m. to 6 p.m. Saturday, Oct. 16, at the Wrap Factory, 10933 Kaw Drive, Edwardsville. Admission is free but to take part in the car or bike show, registration is $20 prior to the event and $25 the day of the event. To register or for more details, go online to thedrive2survive.com.
Comeau, who is convalescing in a rehabilitation center in Lincoln, Neb., is only able to speak with the help of a speaking valve and will probably spend the rest of his life in a wheelchair. But while these circumstances would be enough to break the spirit of most, Comeau has somehow managed to stay positive in spite of everything.
"Attitude is definitely the biggest part of it," Comeau said in a recent telephone interview from his hospital. "But attitude's everything."
Perhaps Comeau's positive attitude stems from the number of supportive friends who have rallied around him since the accident. One demonstration of this support will happen Saturday, when a group of Comeau's friends will play host to a Drive to Survive charity car and bike show in Edwardsville. The event, which is a fundraiser to help Comeau pay for medical bills and other items he will need after he leaves the hospital, will include car and bike shows, food, live music and a silent auction.
"I want to give back to Dorian, because he's always been there for me and I want to be able to be there for him when he needs us the most," said Jason Kelly, one of the event's organizers and a close friend of Comeau's for 15 years.
Fellow organizer Amy Owen, who has also known Comeau for years, echoed Kelly's sentiments, describing Comeau as someone who had always been there for her no matter what.
"Dorian is an amazing person. He will give you the shirt off his back and he will do anything for you and not ask for anything in return," Owen said. "I think I owe him another five million favors, so this is just one of the five million favors I owe him."
One theme of the Drive to Survive event comes directly from the one area in which Comeau has been passionate throughout his life: cars. Comeau's is a well-known name throughout the automotive industry. He said he has been a technical adviser on superchargers and turbochargers for several different trade magazines. He is also co-owner of House of Boost, a Lenexa automotive shop that specializes in high-performance vehicles.
But another theme of the event will be seat belts. Neither Comeau nor Lodigensky were wearing a seat belt at the time of the accident and both were ejected from the dune buggy. Owen and Kelly said an important aspect of the event would be to raise awareness by handing out fliers and keychains promoting seatbelt safety. Sadly, Owen said, had seat belts been worn, there would be no need for such a fundraiser in the first place.
"We'd all be laughing about it today if he would have (put on a seat belt), unfortunately," she said.
Still, both Kelly and Owen say they are inspired by Comeau's optimism.
"(He's) absolutely amazing," Kelly said. "He's so positive, even in his condition. He is still just great and worried about everybody and not worried about himself. He's just amazing."
Proceeds from the fundraiser will also go to pay for Comeau's travel expenses. Once he is released from the hospital, he said he plans to move to Arizona, where a steadier climate will be better for his recovery. And though working on cars may not be in his future, he said he plans to continue working in whatever way he is able.
"I do not want to just be stuck in a wheelchair and not do anything," Comeau said. "I was a workaholic before and I still want to be one now."