Car enthusiasts vroom to Basehor show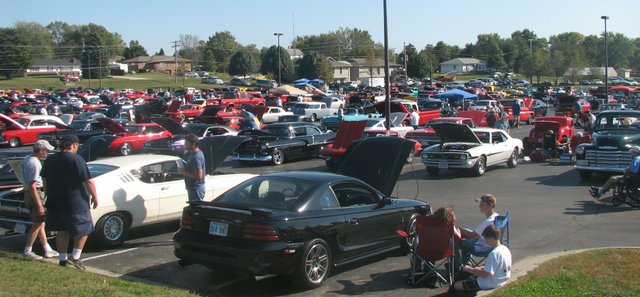 Automobile aficionados may argue about which model year was the best for the Ford Mustang or the Dodge Challenger, but there's no debate that the 2010 edition of the Basehor Car Show was the biggest yet.
The 13th annual show, a fundraiser for Basehor-Linwood High School's Project Graduation, drew 488 car, truck and motorcycle entries Saturday, surpassing organizers' expectations and marking a new record for the event.
"We ran out of room quick," said David Walker, the event's chairman. "We were parking them all over the place."
Vehicles from as far as Colorado and Iowa packed every row of the parking lot and spilled into the surrounding grass.
Last year's show, during which temperatures dipped into the 30s, drew about 270 entries. Walker said organizers had expected between 350 and 400 entrants this year.
He attributed the big crowd to perfect weather, aggressive promotion at other car shows and perhaps some publicity from mentions on two Kansas City telecasts of the BLHS football game against Mill Valley the night before.
Attractions included vendor displays, raffles, a race team from the Kansas University School of Engineering and a host of trophies awarded by various judges.
Walker said the organizers had not yet been able to calculate how much money the show had raised for Project Grad, but he estimated that when the bills had been paid and the revenues counted, the profit would come to at least $15,000. The Project Grad organization funds a drug- and alcohol-free post-graduation party for Basehor-Linwood seniors, as well as other graduation-related activities such as a senior breakfast and the baccalaureate.
Walker, the parent of a BLHS senior, said the chance to raise money for a good cause while also showing off cars attracted many car show participants.
"It's a good cause, keeping the kids together on the last night of their careers, keeping them from doing anything dumb," Walker said.
The chance to do something nice for the students was an attraction for Jack Nolte of Lenexa, who showed off his 1932 Ford three-window coupe.
Nolte said he went to about a dozen area car shows per year, and Basehor's was one of the better ones.
"Basehor puts on a real nice car show," he said.
Nolte said maintaining his vehicle demanded his attention just about every day, but after 25 years of making the rounds on the car-show circuit, he hadn't yet tired of it.
"If you're a gearhead, you're a gearhead 24/7," Nolte said. "Some of the little ladies don't understand that."
One woman who does understand is Cheryl Younger, who was at the show with her husband Tom. Tom said the Youngers, from Overland Park, head to a car show just about every weekend between May and October.
"It's something that she and I do together," Tom Younger said. "We have our other interests that each of us go do, but we come together for the car functions."
The Youngers had never come to the Basehor show before, but Tom said they'd heard the show attracted a big crowd and benefitted a good cause.
The couple showcased two bright red Ford models released more than 70 years apart — a 2006 Mustang GT for Cheryl and a 1934 three-window coupe for Tom. Both are highly customized and "unique," Tom said.
"We are just fortunate enough at this part of our lives to be able to enjoy this hobby," Tom said. "It is not one for the faint of heart."
Top award winners from the Basehor Car Show
Best of Show, cars: Sandy Wamsher, 1957 Chevrolet Bel Air
Best of Show, trucks: Norm Robinson, 1937 Ford pick-up
Best of Show, motorcycles: Jack Hartman, 2005 Harley-David
Chairman's Choice: Keith Hendrix, 1966 Ford Mustang Fastback
Best Engine: David and Belinda Kuntz, 1934 Ford three-window coupe
Best Paint: Bill Stull, 1978 Chevrolet El Camino
Best Interior: Brian Arcidino, 1955 Chevrolet Bel Air