Community mourns
BSHS

graduates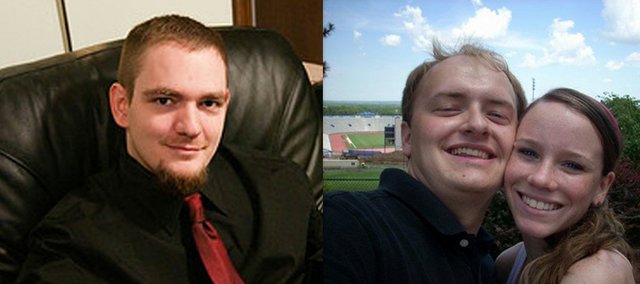 For the staff at Bonner Springs High School, Jake Henry will always be the boy who gave special thought to everything he did, and Stephanie Conn will be remembered for her amazing smile.
The two 2007 graduates died Sunday evening in an automotive collision on Kansas Highway 32. Conn, 22, and Henry, 21, were killed when their car collided with a second car driven by Mathew Nuzik, a 30-year-old Basehor man who also died at the scene. Nuzik was attempting to pass another vehicle at the time, authorities said.
Brian White had Conn for four years in choir at BSHS. Conn was one of White's "babies" as the first class he saw from their freshman year through graduation after he started teaching at the school in 2004.
"She was definitely a leader amongst them, and really the first thing I think when I think Stephanie Conn is her flashing that smile of hers," he said. "It was always there, no matter how she was feeling, and it was contagious. She infused our classroom with energy and life and love."
White said Conn was extremely outgoing and a model student, though in her first year or so of high school, she was a bit shy.
"Then she started to realize what she was capable of and spread her wings," White said.
He remembered how Conn tried out for a show and wasn't selected, but a student who was selected canceled with just 24 hours notice, and Conn filled in and did a great job.
"If I were to have a daughter, I would be more than pleased if my daughter had all of the same traits that Stephanie exuded every day," White said.
Chris Wood, senior English teacher, is close with the Henry family, having taught Jake's mother, aunts and uncles as students, as well as Jake. Wood said when she thinks of Jake Henry, she gets a clear image in her mind.
"I see him sitting in the chair he always sat in, and he'd have a tilt to his head as he was thinking — and he'd come up with a wonderful, wonderful answer," Wood said.
She said Henry was a top student and would help others in the class, but wouldn't take a superior attitude about his advanced knowledge — he just wanted to help others move ahead. He was known for his sense of humor and the thought he would put into everything he did, Wood said.
"I think that's what's really important – that willingness to think," she said.
In their yearbook senior year, they had been voted "cutest couple," said Rick Moulin, assistant principal at the high school.
"They were model students with really, really high character," Moulin said. "The kind of kids as a parent you'd hope your kids would act like."
Wood also remembered them as students who got along with everyone.
"They were an inclusive couple, it wasn't 'We're together and no one else can talk to us,'" Wood said. "There was a maturity about their being together."
Bill Scott, Clark Middle School teacher and high school tennis coach, remembers Conn as a strong player on his team, and remembers Jake always attending the meets to watch her.
"She was the sweetest person I have ever had on the team," he said of Conn. "Always was smiling and so respectful to everyone."
Henry played the trombone in high school, and enjoyed golfing, said Zach Holder, a Kansas University junior from Bonner Springs who knew both Conn and Henry.
Holder said the two were always together. They had lived together for two years, he said, most recently in an apartment in Lawrence.
"They were just both great people who loved to have fun," he said.
At KU, Henry was a senior who was majoring in sports management. He had been working at the Nike Factory Outlet at the Legends in Kansas City, Kan., Holder said.
Conn was a junior at KU majoring in psychology, sang in the choir at KU. Both enjoyed going to KU football and basketball games, and camped out for seats.
Funeral services will be at 10 a.m. Friday at First Christian Church of Bonner Springs.
— Lawrence Journal-World reporter Andy Hyland contributed to this story.
422-4074