New spa promotes joy, restoration, healing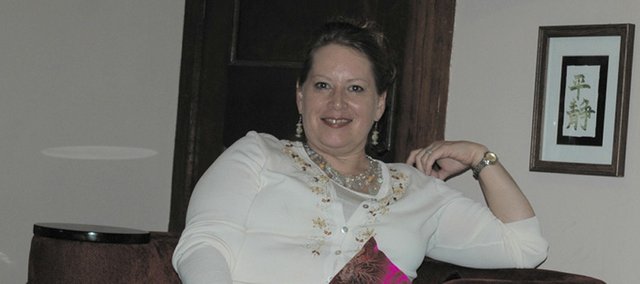 After a friend laid out the advice for her, Tammy Anderson knew what her life's work would be.
"She said, 'You love skin and you love healing and helping people,'" Anderson said of the advice she received several years ago that inspired her to open her own day spa. "I've always been a caretaker, so it's kind of natural."
Now Anderson is the owner of The Lotus Blossom Day Spa, which she opened at the end of September in the former location of Provence on the Prairie, 141 N. Nettleton Ave.
Inside Anderson's new place of business, natural lighting, cozy furniture and a machine playing the soothing sounds of waves crashing to the shore lend themselves to the feelings Anderson said she wants to incite in all of her clients.
"To make sure that everyone is welcome and that everyone is able to come here and bloom and feel comfortable; to feel if they want to come and just sit and relax, (that's OK)," Anderson said of her goals for The Lotus Blossom.
Services at the day spa include everything from facials and many different types of massage to waxing, manicures and pedicures.
Additionally, several less well known treatments are offered, including a coffee zing treatment that promotes circulation and the revitalization of skin cells.
Another is an ear-candling treatment, where sinus massage is coupled with the insertion of a hollow candle into the ear canal. The other end of the candle is lit. Anderson said this not only helps to clean the tubes in the ear but helps to prevent sinus infections, as well.

Alternative medicinal practices, such as the ear-candling, and homeopathic remedies are two areas about which Anderson says she has always been passionate. She started working in day spas as a teenager, eventually moving up to renting her own booth out of a spa in Basehor.
After Pause … The Spa at 515 opened last year at the Five Fifteen apartment and office suites, Anderson became a manager.
Anderson said Pause … The Spa owner Karen Lilley relocated the business to Kansas City earlier this month. The relocation, which Anderson said she was told about in August while she was still a manager, was the final push she needed, Anderson said.
"When I found out that Pause was leaving the area, that's actually when I really considered it," Anderson said.
Unlike Pause, Anderson plans to stay put. She grew up in the area and raised her family here, as well.
"I'm a local girl," Anderson said. "I'm not leaving."
Anderson she would like her business to be a part of the community and also would like the community as a whole to feel as if it has a place in her business. She welcomes anyone to come in, even if they just need a few moments to sit in a comfortable piece of furniture and reboot from a day of stress.
"Come get the cure … the restoration, and just to feel good. That's part of what the lotus blossom does, is it allows people to bloom from themselves," Anderson said. "Everyone has stresses. But leave what is ailing them and let us help them restore peacefulness (and) joy."
Beginning Tuesday, Oct. 19, Anderson will offer weekly yoga for "real women" classes at The Lotus Blossom. Each one-hour class is $10 and no registration is required. Call (913) 441-0841 for more details.