Residents give street upgrades stellar marks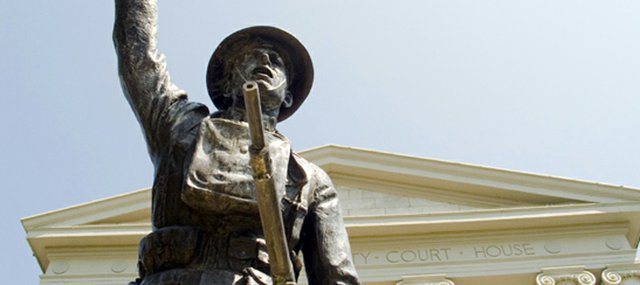 As the Leavenworth County Commission on Monday finalized the financial details of a street improvement project pushed by the residents of two subdivisions southwest of Basehor, two couples made the trip to the county courthouse to show their appreciation.
After a public hearing on the benefit district in the Stoner and Lo-Mar subdivisions, scheduled during the commission's regular meeting Monday morning, the commission unanimously approved a final plan to divide a total cost of about $85,000 to chip-seal roads that were previously gravel. The residents who live along the roads can pay an annual assessment of about $370 during the span of ten years, which factors in an interest rate of 3 percent, or pay a lump sum of about $3,140 this year.
Four of those residents – Dewayne and Georgianna Engel and George and Barbara Painter, all of whom live on Dwyer Road – came to thank the commissioners for approving the project, which started when residents petitioned the county to chip-seal the road while doing similar work nearby and to pay for the work by forming a benefit district.
Georgianna Engel said the neighborhood had been transformed since the road was chip-sealed last month. She said she recently looked out her front door to see a scene she'd never seen during the 31 years she lived along a gravel road: people walking, a man and woman riding bicycles and a jogger going by with headphones on.
"It's like we've become a neighborhood," Engel said. "I can't explain it. Everybody now is sort of coming out and enjoying what we have."
County public works director Mike Spickelmier said he hoped to see more projects initiated and supported by residents in the future.
"This wouldn't have happened if it hadn't been for the dedication and work of the residents along the roadway," Spickelmier said.
The petition given to the county included signatures for 62 percent of the residents in the benefit district area.
In other business Monday, the commission:
Voted 3-0 to set the 2011 assessment at $500 per residential property for the Sewer District No. 3 sewer line south of Basehor.
Voted 3-0 to authorize the county public works department to proceed with the requirements to re-name a section of 157th Terrace near Basehor-Linwood Middle School as Conley Road, to comply with county conventions for roads that run east-west.