Rotary delivers holiday gift early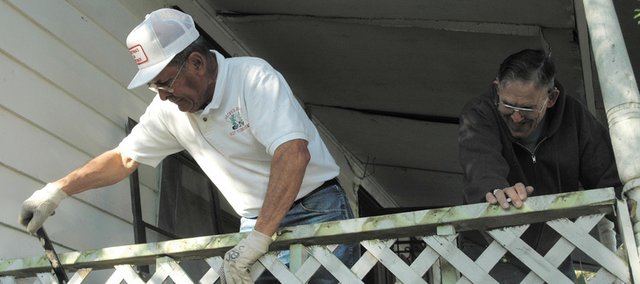 By 9 a.m. Saturday, members of the Bonner Springs Rotary Club were hard at work, cleaning, painting and landscaping.
Santa's helpers
Businesses contributing to the Bonner Springs Rotary Club Christmas in October project:
• Dayspring Electric, Edwardsville
• Vesta Lee Lumber, Bonner Springs
• Tim Sproules, plumber
• Midwest Carpets, Tonganoxie
• Dennis Hecht, carpet layer
• Dick Reinwald, carpenter
About 12 club members had gathered at the home of Wilma Dangerfield to help her with some home repairs and improvements as the club's Christmas in October project. This is the fourth year the club has taken on such a project, and as Rotarian Darrell Donahue explained, there's a special feeling that comes from providing help where help is needed.
"We try to live up to the service part," Donahue said, referring to the club's motto "service above self." "The camaraderie and the good feeling of giving back — you can't measure that in dollars."
Judy Cox, who organized the project for the club, said that in the first three years Rotary members did a Christmas in October project, they found homes that needed help through the city's codes department. They then would work with the Kansas City-based Christmas in October organization to get paint, lumber and other supplies.
The organization took note there was a group willing to work on Bonner Springs homes and this year, Christmas in October arranged for the club's house project from its applications. Christmas in October put the Rotary together with Dangerfield, 94, who had a stroke 12 years ago and has relied on help from her family to keep her house in shape.
Cox said they met with Dangerfield and her sons, Lanny and Don, twice to discuss what could be done and started planning about two months ago. In addition to the work that the club members were able to do, they contacted several local business owners to help out, receiving donated carpet and lumber and finding a plumber to make bathroom repairs, an electrician to fix the front porch light, a carpenter to fix the front porch ceiling and exterior soffits, and a carpet layer to install the new carpet.
"Bonner's very generous like that," Cox said. "We ask them, and they're glad to help out… I don't know what we'd do without them, because most of us are just business people."
The "business people" club members put in their fair share of work, however, cleaning and painting two rooms, removing exterior latticework and clearing out enough overgrowth to fill a Dumpster.
"You go home really, really tired, but you're really, really glad for that tired," Cox said. "It's a good tired."