Basehor-Linwood girls 3rd at
KVL

cross country meet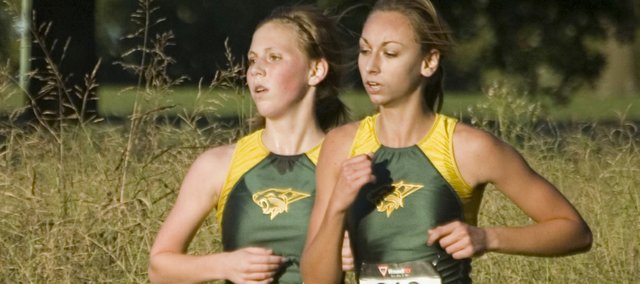 Lions and Jaguars dominated the Kaw Valley League cross country championships Thursday afternoon at Wyandotte County Park.
Photo Gallery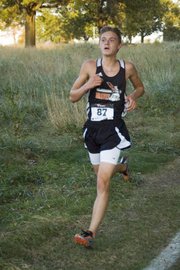 Kaw Valley League cross country 2010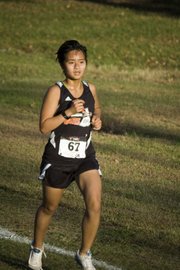 Lansing boasted the boys and girls individual champions, as well as the girls team champion. Meanwhile, The Mill Valley Jaguar boys cruised to a team title as well.
In the middle, however, there were plenty of Basehor-Linwood Bobcats and Bonner Springs Braves.
In the girls' four-kilometer race, Basehor-Linwood placed third with 75 points and Bonner Springs was fourth with 118.
The Bobcats were led by Ally Laney who finished fifth in 16 minutes, 33 seconds. Lansing's Ashtin Kurz was the league champion in 15:35.
While Laney broke away, a trio of BLHS runners stuck together and bolstered the team score. Hannah Tush finished 15th in 17:24, Haley Stallbaumer was 16th in 17:26 and Shelby Miles was just two seconds behind in 17th place.
Sheridan Miles rounded out the Bobcats' first five by placing 23rd in 17:54. Rebecca Carroll was 24th in 17:55 and Sara Rehm finished 31st in 18:43.
Two top-20 finishes helped bolster Bonner Springs' position in the team standings, and the Braves' best performer was Scintilla Capalla. She finished sixth in 16:46. Mandy Ballou was 13th in 17:15.
Also for BSHS, Erin Mills finished 30th in 18:37, Tessa Newberry was 33rd in 18:49, Cheyenne Hale was 39th in 19:40 and Citally Alvarado took 40th in 19:44.
In the boys' five-kilometer competition, Basehor-Linwood placed fourth and Bonner Springs was sixth.
Lansing's Pete LaMoe cruised to victory in 16:37, and Basehor-Linwood's Jonathan Oliva was exactly one minute behind in 10th.
Three other BLHS runners finished in the top 20. Bryce Garver was 17th in 18:00, Mike Torrez took 19th in 18:06 and Rob Peterson finished 20th in 18:12. In addition, Wyatt Kelly was 31st in 19:10, Nick Yanos placed 34th in 19:27 and Mitchell Cook finished 40th in 20:52.
Bonner Springs' boys received a strong effort from Matt Coffman. He led the Braves with a 12th-place finish in 17:45. The Braves didn't have enough other high finishes to help them climb the team standings.
T.J. Kimbrough finished 22nd in 18:15, Austin Epp was 25th in 18:32, Josh Oden was 26th in 18:34 and Austin Cobb placed 33rd in 19:23.
Also for BSHS, Tyler Johnson placed 39th in 20:40 and Thomas Hook was 43rd in 21:23.
Bonner Springs and Basehor-Linwood will compete at the Class 4A regional championships Saturday at Wyandotte County Park. The girls will race at 4 p.m. and the boys will compete at 4:30 p.m.