Bobcats' Dove, Vasquez show improvement at golf state tourney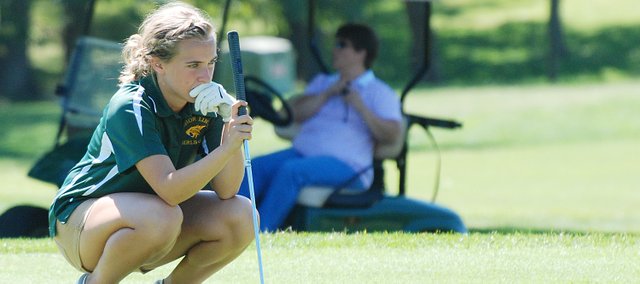 The most basic measure of progress in golf is stroke count. By that measure, Basehor-Linwood girls golf coach Noah Simpson said the improvement juniors Marissa Dove and Nicole Vasquez made at the Class 4A state tournament was astronomical.
Both put up some of the highest scores at last year's state tournament, and Monday at Cherry Oaks Golf Course in Cheney the pair found themselves firmly in the middle of the field of 91 players — and they got there by shooting significantly better scores.
Dove shot a 104 and Vasquez had a 109.
"They just showed marked improvement over a year ago," Simpson said in comparing last year's state tournament to this one. "A year ago at the state tournament, Marissa shot a 138 and Nicole shot a 125. Improving by 34 strokes and 16 strokes is just awesome. To continue that growth like they have is just awesome. Now if we can do it over the summer and in the offseason and come back next year and do it again, we'll have some higher goals next year at state."
Both players got off to a better start this year. In 2009, Dove shot a 74 on the front nine. On Monday, she opened the state tournament with a 49 on the first nine holes — a 25-stroke improvement. Vasquez had a 60 on the front nine a year ago, and on Monday she had a 54 on the front side.
Simpson attributed the better start to having had a quality practice round on Sunday, as well as to both Dove and Vasquez staying more relaxed and focused.
"I thought Sunday they were very loose and having fun, and I think that carried over into Monday," he said.
Jacie Scheer of Cheney was the state champion with a 76 and Brooke LaRue of Topeka Hayden finished second with a 91. BLHS faced LaRue multiple times this season, including at its home tournament two weeks ago where LaRue was the champion.
Andale won the team title with a 366, Jefferson County West was second with 368 and Cheney placed third with 377.
Simpson — who is in his first season as the Bobcats' golf coach — said the state tournament was a memorable experience for a number of reasons. Among them was the amount of talent competing at the same time.
"The amount of golfers that were down there, and the quality of golfers that play was really impressive," he said. "It was a fun atmosphere seeing the fan base that follow the golfers. That's something you don't see a lot during the year because golf tournaments are usually going on while people are at work. It was also great getting a chance to spend time with other coaches I've gotten to know throughout the year, as well as meeting other coaches throughout the state and just talking golf. It was an opportunity for me to learn more about coaching golf and new things that can help our players improve."
Simpson hopes to put some of the lessons he learned to use next year when he returns his entire squad — including both state qualifiers — in 2011.