Festival brings reality to improv comedy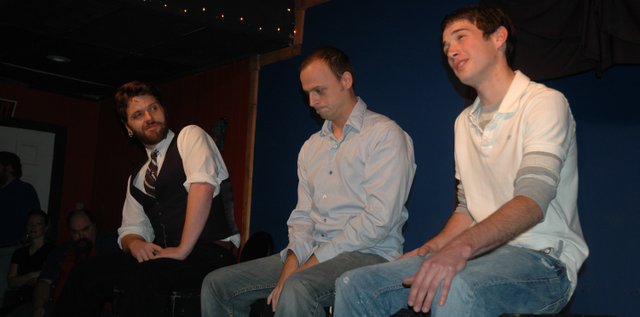 A row of contestants stand onstage, anxiously awaiting a panel of three judges to determine whether their talents will keep them in the game or whether they will soon be saying their last hurrahs.
A new televised hybrid of "American Idol?" No, it's "The Next Big Improv Show" at the Roving Imp Theater and Coffee House.
"The Next Big Improv Show" was an onstage, reality television-inspired game put on Friday night at the theater as part of ImpFest 2010, an improvisational comedy festival that went on Oct. 14-17. During the show, several improvisational performers were asked to demonstrate their skills in playing an expert in whatever topic the audience chose, ranging from job placement to a bacteria-themed radio talk show. Audience members then voted on their favorite performers and from those, three judges chose the final winner for the night.

Roving Imp owner John Robison said "The Next Big Improv Show," which has been performed every other week at the theater for about a month, is a creation inspired by his love for reality television.
"I basically took parts of my six favorite reality shows and sculpted this one," Robison said following the festival, noting that those shows include "Project Runway" and "American Idol."
Every week "The Next Big Improv Show" is staged, Robison said, someone will be eliminated until only three are left standing. Those three will then get a chance to perform their own show at the Roving Imp.
"It's new and exciting and no one is doing anything like it, so we thought we'd showcase it," Robison said of why "The Next Big Improv Show" was chosen to be part of the weekend's entertainment.
But, of course, Robison's improv show wasn't the only highlight of the festival, which featured 16 improvisational sets performed by comedy troupes from throughout the Midwest. Additionally, workshops were offered Saturday and Sunday of the festival going over such areas of improv performance as musical improv and learning the ability to apply a little Buddhist philosophy to any performance.
"There's a tenet in Buddhism that you are supposed to be mindful of where you are in space and time at the moment … rather than worrying about the past or future," Robison said of why the philosophy works equally well in a theatrical setting. "(It teaches performers how to) experience where (they) are onstage, rather than making elaborate plans for the future."
Performing troupes over the weekend included Biblioclast, from Bonner Springs and Chicago, TwinProv, from Oklahoma City, Dictionary Soup, from Bonner Springs and Kansas City, Deep Space Emily, from Bonner Springs, and GirlProv, a five-member all-female troupe comprised of Kansas University students.
"We were really nervous, but it felt great," member Jackie Coester said of the performance, which happened Friday night of the festival and was the group's first time performing at the Roving Imp.
"It's a great venue to play in," added member Anna Smith.
This is the second year Robison has put on such a festival, and he said this year he was much more impressed with the caliber of performances than last year.
"The main thing for me is that at this year's festival, we had 16 sets and I feel every single one of them really brought their top game," Robison said, adding that "last year, there were shows that I would say were not, shall we say, entertaining … I was happy with every single show, and I was thrilled with at least half of them."
Second in line this festival may be, but Robison said there will be more to come. He says he is already thinking about ImpFest 2011.
"I am at this moment expecting the third festival to happen sometime in early November of 2011," Robison said.