Former teacher's estate benefits Basehor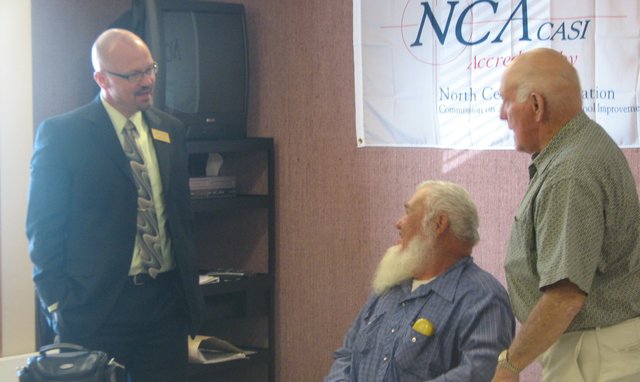 As Basehor grows in the future, the name of one prominent family from its smaller, more humble days will live on.
Nearly two years after the death of former Basehor schoolteacher Irene Kiester, the Basehor-Linwood School District and Basehor United Methodist Church each accepted donations from her estate on Tuesday for about $75,000.
With its donation, the school district will create a fund providing two annual student scholarships, one named after Irene and one named after her husband Ward Kiester, who was the first superintendent of the unified Basehor-Linwood district in the 1960s. The church has yet to determine how to put its gift to use, but it may put it toward the construction of an additional building.
The estate also provided about $780,000 for the Kansas University Endowment. Irene and Ward both graduated from KU.
Roger Prelesnik, chairman of the board of trustees at the church, said it was the mid-1950s when his family moved to Basehor, and a sign on the edge of town read, "Basehor, unincorporated, population 200."
In those days, he said, Ward and Irene Kiester were central figures in the community.
"Everybody knew him," Prelesnik said. "And everybody looked up to him, and Mrs. Kiester, too."
Gail Neis and Alan Schendel, both nephews of Irene's and farmers in Miami County, represented the Kiesters in the gift presentations Tuesday. Neis said the two met at Linwood High School, where he was principal and she was a teacher, and then after World War II the couple married and came to Basehor. According to her 2008 obituary in the Sentinel, Irene taught at Basehor High School for 25 years.
"They were proud of the area they were associated with," Neis said.
Prelesnik, whose brother and sister went to the high school when Ward Kiester was principal, said he was known as a strict disciplinarian.
"When he got upset, people knew that he was upset," he said, but he also had a big heart and was well-liked in the community. He died in 1983.
Prelesnik and Neis both said they remembered Irene Kiester's kindness. Neis said she helped a mentally disabled nephew learn how to read after doctors said he would never be able to.
Prelesnik said she would have been right at home teaching small children instead of high school students.
"She should have been a kindergarten teacher," he said, "because she was the sweetest lady that ever walked the face of the earth."
Irene's obituary lists a litany of community organizations she had a hand in: Basehor Community Library, the Basehor Historical Museum Society, and several retired teachers organizations, among others. At one rural school, before she met Ward, she was even a basketball coach.
The Kiesters' name can already be found in several places around Basehor. The Basehor-Linwood High School football team plays on Kiester Field, and at the United Methodist Church, a memorial board bears the name of their son, Ward II, who died in a car accident in 1972 while in college. The school district gives out a scholarship in his honor, as well.
A stained-glass window at the entrance of the church foyer also came from a donation from the Kiesters.
Basehor-Linwood superintendent David Howard said that by spring 2012, the Kiesters' fund could supply two annual $1,500 scholarships.
"Our kids are sure going to benefit from that," he told Neis and Schendel, Irene's nephews, on Tuesday.
The Rev. Claudia Bakely, pastor at the church, said she was pleasantly surprised at the amount of the Kiesters' donation.
"I wasn't expecting it to be quite like this when I first got the information," Bakely said.
Neis said Ward Kiester had received inheritances from a number of relatives, and the Kiesters managed their money well.
The help that the Kiesters' donations will provide is fitting for a couple who meant a lot to Basehor in their time, Prelesnik said.
"In our family, they were pretty important people," he said.