Tendick, Hilliard end tennis season at state tournament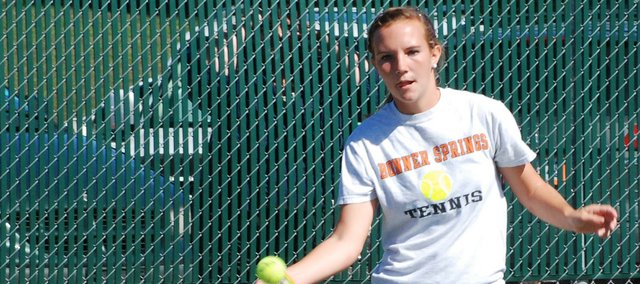 Bonner Springs is establishing a regular presence at the girls tennis state tournament thanks to doubles teams that have included Breanna Tendick.
The BSHS junior qualified for the Class 5A state tournament in 2009 with then-senior Emily Randolph. Tendick returned to state — this time in Class 4A — on Friday and Saturday at Maize South High School with senior Caitlin Hilliard as her partner.
Becoming a regular state tournament participant is a big step for the BSHS girls, but the next step will be to win a match at state.
Tendick and Hilliard went 0-2 at state, making it two years in a row BSHS has been winless at state.
Even so, coach Bill Scott said he was proud of Tendick and Hilliard for qualifying and representing the program well.
"We don't want to forget how great these girls finished the season with being champions of my tough tournament (the Bonner Springs Round Robin Invitational), and third in a tough regional," Scott said. "They were 9-4 going into the state tournament."
The pair nearly picked up a first-round victory at state. With the first set tied at 4-4, they held a 40-0 lead in game nine before letting it slip away. Ultimately, they lost the set 7-5 and then dropped the second set, 6-0, against Alex Lindly and Jessica Butler of Winfield — the eventual 12th-place medalists.
"When they lost (in) round one, they are only given one more match to play and then they are through," Scott said. "That is not the way it used to be (before the tournament format changed), but it is now. So they were only playing for a one-point team score."
Tendick and Hilliard lost their final match, 9-7, to a team from Baldwin.
Given that Hilliard is a senior, Tendick will once again search for a new doubles partner next season as she tries to earn a third straight trip to state.
"Breanna is already planning on what she has to do next year to advance further than she has the last two years at state," Scott said. "Again, if I can find the right doubles partner for her we'll go doubles, and if not, she will go as a singles player for her senior year."
Wellington won the state championship with 40 points, Hesston was second with 31, and Independence took third with 22.