Kansas House District 39: Protecting schools key, says challenger
Protecting education is the most important matter for the state of Kansas, as Joe Novak sees it.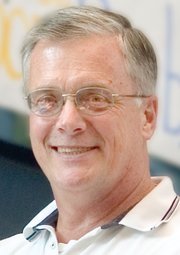 Novak, Democratic candidate for the 39th District Kansas House of Representatives seat, also listed lowering taxes and improving the state's energy portfolio as top issues for the state, but the former educator said there should be no more cuts to the education system in Kansas. "(We should) continue to look for better spending efficiencies together with alternative funding sources to adequately fund the state constitutional responsibility," he said.
Novak, 59, is a retired high school administrator and adjunct instructor with Kansas University who has served as the Region VI director of the National Student Council Association. The Shawnee resident also has been involved in the community, helping with the Shawnee Rotary Club's Bike Rodeo and serving as co-chair for the American Cancer Society's Relay for Life.
He said he hoped to become a state representative to continue his public service.
"I am running for office to truly represent all the people of the 39th and to help make government spending more transparent for the people to see how money is being spent," Novak said.
To reduce taxes in the state, he said he would push to create a nonpartisan committee to look at all current tax exemption and abatement structures and laws to see how the state can diversify the tax structure and spread it out more.
He said the state should move its energy portfolio forward to make Kansas a national producer, rather than just a consumer.
"Kansas has the potential to produce 79 times the energy it needs to run the state," he said. "We are talking about a full complement of resources including wind and renewable and clean-burning bio-fuels. We need to move this forward and create thousands of jobs for hard-working Kansans."
The 39th District covers Basehor, Bonner Springs and northwest Shawnee.