BLHS

sends 3 runners to state championships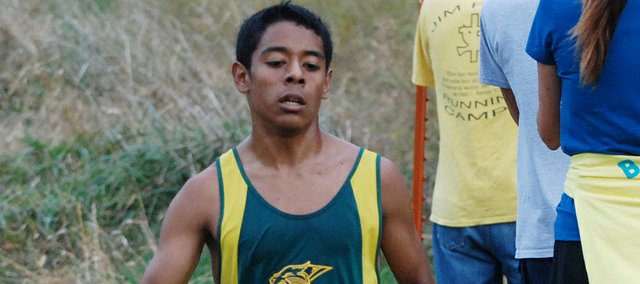 Kansas City, Kan. — After the Class 4A regional championships Saturday, Basehor-Linwood boys cross country runners had a bad feeling about their state plans.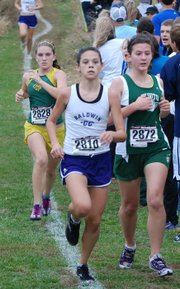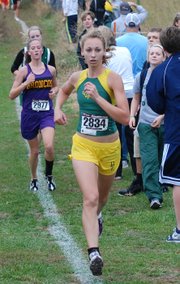 The runners looked at one another, and they didn't believe the times they'd run were fast enough to propel the team into the state meet.
"It was kind of a gut feeling," Bryce Garver, senior, said.
Twenty minutes later, their instincts were confirmed. The Bobcats had lost out on a trip to state by nine points.
Baldwin, De Soto and Tonganoxie earned team spots to run at state next week. Fourth-place Basehor-Linwood had just missed out.
The biggest difference between third and fourth place was that THS placed three runners in the top 11. The Bobcats' top three finished 15th, 21st and 25th.
"Well, it was a good race, but not quite where we wanted to be," Garver said. "Still, it is a great group of guys, and I'm glad that this family got to be together. I wish we would have done differently. We have been talking about it as us and (Tonganoxie) all year, and it is 10 or 11 points that keeps us out (of state)."
Coach Jeff Venema said it was a familiar feeling for him and his runners following the race, describing it as an excruciating pain.
"So many times over the years Bobcats cross country teams have come so close to making state as a team, and to come up just short — again — is really hard to deal with," he said. "We have a group of senior boys who ran hundreds of miles to put themselves in position to realize their dreams, and they have nothing to show for it. Our boys missed out by nine points, and our girls by 13. That's nothing in big-event cross country meets, just miniscule. Last year, it was by six. We work hard, and you'd like to see a little something for the trouble. The senior boys are like family to me and to each other, and this really hurts."
Garver said he feels for Venema as much as anyone on the team.
"He is going to take it hard," Garver said. "He is the greatest coach I have been around. The man cares for us a lot. He is like a third parent. I can't thank him enough for everything he has done for me in four years."
While the team didn't qualify, Jonathan Oliva punched a ticket to state this season. Oliva finished 15th overall in 17 minutes, 56.87 seconds.
"I think that I could have done better," Oliva said. "I ran 20 seconds slower than what I did at the league meet."
Oliva said the wind in his face made it difficult to run faster. Still, it was a day for Oliva to celebrate. After competing on varsity last season, he was the Bobcats' top runner this season. He ran countless miles during the summer and worked hard for the season. As he ran, he thought about qualifying for state. Now he has his chance.
He is the first BLHS boys runner to qualify for state in a couple of years.
"Of all the great things that Jonathan has accomplished this season, one moment stands above them all for me," Venema said. "Right after his race, when he knew that he personally had made state, he was as crushed as anyone that we hadn't made state as a team. It was a very revealing moment about his character and his love for his teammates. It about put me over the edge to see it. What a terrific kid."
In addition to the top three qualifying teams, the top five individual finishers from non-qualifying teams advance to state. Oliva was the second of those five.
Basehor-Linwood's Mike Torrez placed 21st in 18:17.40. He missed qualifying for state by less than two seconds.
Garver placed 25th in 18:27.50, Mitchell Cook was 28th in 18:34.77 and Rob Peterson was 34th in 18:48.02. Nick Yanos finished 49th in 19:21.63 and Wyatt Kelly was 52nd in 19:34.25.
Oliva won't be the only Basehor-Linwood runner competing at state. Two BLHS girls also qualified individually for the state championships.
Ally Laney placed 14th in 16:31.23 and Hannah Tush was 17th in 16:45.26. Laney was the third individual qualifier from the regional, and Tush — who ran at state in 2009 — was the fifth and final individual qualifier.
Laney said the hardest part about Saturday's race was waiting for it to start. She was nervous before it started, but she relaxed once it started.
"I was scared at first, but once I started going I did pretty well," she said. "I think it makes you push harder when you are a little nervous."
Laney sprinted at the start and established her position among the top runners in the race. From there, she continued to push hard and stayed with the leaders' pack for as long as possible. All the while, a state berth was on her mind.
"I was thinking how good it would be to go to state," she said. "Either as a team or individually, one way or another I had to go."
A visit to state has long been a goal for Laney.
"Ally Laney has been dreaming about this day since middle school," Venema said. "She had it targeted and responded well to the pressure of the day. She came within a second of hitting her goal time, and that's coming on a windy day, which had a definite effect on times."
Tush is excited to make a second straight trip to state after turning in a strong performance at regionals.
"I felt like I left it all on the course and hoped it was enough to take me to state," Tush said.
In the end, it was just enough.
"I said at the beginning of the season that Hannah Tush is one of the finest runners in the state of Kansas, and she again proved me right," Venema said. "Just an outstanding performance, considering the pressure she faced of attempting to repeat as a state qualifier. She showed up with her game face on, and I knew from the moment that I first saw her that she was going to be OK."
Baldwin, De Soto and St. James Academy swept the top three team spots and qualified full squads for state. Topeka Hayden and BLHS were a close fourth and fifth, respectively.
Also for BLHS, Shelby Miles placed 28th in 17:20.71, Haley Stallbaumer was 31st in 17:36.56, Rebecca Carroll was 34th in 17:46.72, Sheridan Miles finished 38th in 17:52.28 and Brianna Torrez was 40th in 17:59.15.
The state championships will take place Saturday at Wamego Country Club.