BLHS

 volleyball ends season against

SJA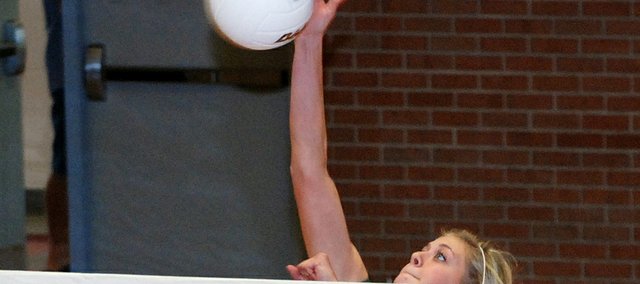 Tonganoxie — Sometimes Goliath does fall.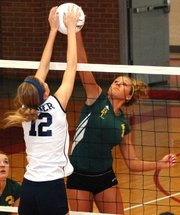 That was Basehor-Linwood volleyball coach Tammy Zydlo's message to her team prior to its Class 4A substate first-round match against two-time defending state champion St. James Academy on Saturday at Tonganoxie High School.
The Thunder — the nation's top-ranked team according to PrepVolleyball.com — had already been beaten once this season. Bishop Miege, the top-ranked team in Class 5A, knocked off St. James two weeks ago, so why couldn't the Thunder fall again?
"We talked this week about how there have been lots of miracles in the world of sports," Zydlo said. "I printed off some of them this week. A lot of them are basketball-related, but it's all applicable. At some time the David's have to go up against the Goliath's, and today it was us."
The Bobcats gave it their best shot against St. James, but the Thunder were too overpowering in a 25-9, 25-9 victory.
St. James went on to win the substate championship and will take a 39-1 record to state Friday and Saturday at the Bicentennial Center in Salina.
Basehor-Linwood ended its season with a 12-23 record.
St. James scored the first four points of game one and soon built a 10-2 lead. BLHS countered with a 5-2 run that included a kill by Sydne Eriksen and a block by Samantha Rutherford and Macyn Sanders. St. James regrouped and took a 15-9 lead before closing the game on a 10-0 run.
The Thunder opened game two on a 7-3 run and then unleashed a 10-0 run — including five aces by Paige Brown — to seize full control. St. James soon led 21-4, but the Bobcats refused to go quietly. The final points consisted of numerous long volleys and scrambles while BLHS showcased some solid blocking and aggressive defense to prolong points before the Thunder eventually closed out the victory.
"We've been a very good blocking team," Zydlo said. "Obviously St. James has several strengths, but we knew they'd have hard hitters. One of the things we talked about was that they were going to have hard hitters and they'd probably be hitting right over the tape, so all you need to do is make sure the timing's right, put your hands in front of the ball, and you never know what will happen. We did have some blocks and we made them work for some points, so that was great."
Zydlo said she was disappointed that seniors Courtney Poe, Shelby Equels and Sanders had to end their careers with a loss to St. James, but she said she was pleased with the effort they showed.
Zydlo also said she saw this season as a building block for the future. In particular, she cited the players she has returning and younger players coming up in the program as being strengths the Bobcats can build upon.
"The future looks bright," she said. "We have a lot of girls in our area now that are playing a lot of club volleyball, even the fifth- and sixth-graders are playing a lot of club volleyball, and that's only going to help. That's what you need for a program."