Braves blow out Wildcats, secure state playoff berth
Bonner Springs can secure district title with victory Friday against Lansing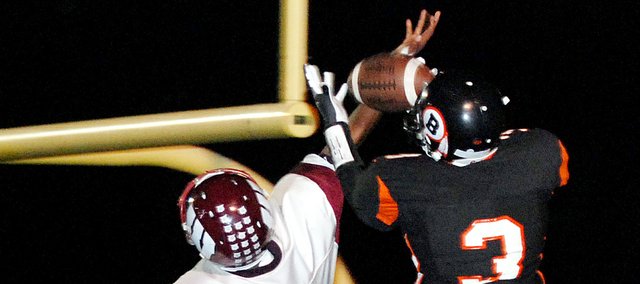 Bonner Springs wasted no time punching its ticket to the Class 5A state playoffs Friday night.
The victory was Bonner Springs' fourth in a row after an 0-4 start to the season, and it was a fun one for the Braves as every player in uniform got in the game.
Photo Gallery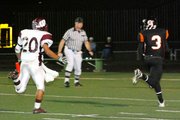 Bonner Springs 54, Washington 6
"There's an old saying that winning takes care of a lot of things," BSHS coach Lew Kasselman said. "That's what winning does, it makes you feel good about yourself and the things you're doing. I told the kids 'We've just got to hang in there and keep working. If we do that, then once we get a win we can feel good.' We like that feeling."
The Braves took the drama out of the game early Friday night. Defensive back Jonathan Blackwell stripped the ball from Washington receiver Marquis Stevens on the second play of the game. Defensive back Nick Carver scooped up the ball and raced 30 yards to the end zone. A penalty waved off the touchdown, but it didn't matter. Two plays later, BSHS running back J.J. Jackson took and option play down the left sideline for a 43-yard touchdown. The extra point attempt was blocked, but the Braves led 6-0 just 60 seconds into the game.
"As a coach, we always talk about that first series — whether it's a kickoff, or defense, or offense — that sets the tone for the game," Kasselman said. "If you do things that turn the ball over or shut them down, that sets the tone for the game."
Washington struggled to move the ball on its second possession as defensive end Andrew Orser created havoc in the backfield on multiple occasions. After a shanked punt out of bounds, BSHS had a short field to work with. Quarterback Jourdaine Smallwood connected with wide-open wide receiver Steve Williams down the middle of the field for a 35-yard touchdown. Jackson rushed for the 2-point conversion and the Braves led 14-0 with 6:22 left in the first quarter.
The Braves forced a turnover and scored a touchdown within the first minute and never looked back in a 54-6 drubbing of winless Washington at David Jaynes Stadium.
Class 5A - District 1
Bonner Springs won its fourth straight game Friday night, and the Braves did it with emphasis. They pounded Washington on the ground and through the air in a 54-6 blowout that earned BSHS a spot in the Class 5A state playoffs. Lansing also won a lopsided matchup against Schlagle and secured a playoff berth. BSHS and LHS will square off Friday to determine the district champion. The game won't end anybody's season, but at stake is a first-round home playoff game.
TEAM Record Pts.
Lansing 7-1 (2-0) +26
Bonner Springs 4-4 (2-0) +26
Schlagle 1-7 (0-2) -26
Washington 0-8 (0-2) -26
Friday matchups:
Bonner Springs at Lansing
Washington vs. Schlagle
Already sensing the game was slipping away, Washington attempted a fake punt on its next possession after going three-and-out. Defensive back Joe Dooley intercepted it. On the ensuing play, Jackson raced 36 yards for a touchdown.
Jackson had plenty of room to run all night, and he credited the Braves' linemen with giving him space to operate.
"When I can get out of the backfield and make things happen, it really helps," he said. "Those guys up front are doing well."
Late in the first quarter, Williams made a beautiful over-the-shoulder catch for a 19-yard touchdown. That gave the Braves a 28-0 lead.
Smallwood scored on a 6-yard run early in the second quarter and stretched the lead to 35-0. The teams closed the half with matching five-minute drives that resulted in no points, and the Braves led by five touchdowns at intermission.
Bonner Springs scored two more times in the third quarter. Jackson found the end zone on a 12-yard run and Smallwood scored from 4 yards out to make it 48-0. By the end of the quarter, the BSHS coaching staff was putting in the reserves. Starters such as Smallwood, Jackson and Williams spent the fourth quarter smiling on the sideline and savoring the victory.
"It's real fun," Jackson said of the Braves' dominating performance. "When you come out and win games like this, it's fun."
Washington scored its only points in the fourth quarter when running back Devin Porter broke free for a 20-yard run with 5:44 left.
The Braves' reserves produced a fourth-quarter touchdown when backup quarterback Jordan Jackson connected with wide receiver Daemon Franklin for a 79-yard touchdown.
Bonner Springs piled up more than 450 yards of total offense. Jackson rushed 17 times for 168 yards and three touchdowns. Smallwood ran nine times for 49 yards and two touchdowns. He also completed 7 of 12 passes for 103 yards and two touchdowns. Williams had two catches for 54 yards and two touchdowns.
In addition to Bonner Springs' victory, Lansing blew out Schlagle, 51-22. That means both BSHS and LHS are 2-0 in district play. Both teams are playoff-bound. They will meet at 7 p.m. Friday at Lansing to decide the district championship.
"It's a big game because, number one, you want to be district champs. Number two, if you're district champs you play at home in the first round (of the playoffs), so that's a big thing," Kasselman said. "We want that advantage, and that's the critical thing about it. Our kids will be ready to play, and so will theirs. I told the kids it's going to come down to who makes the least amount of mistakes and who takes advantage of the situations."