Farmer's market organizers report success in first year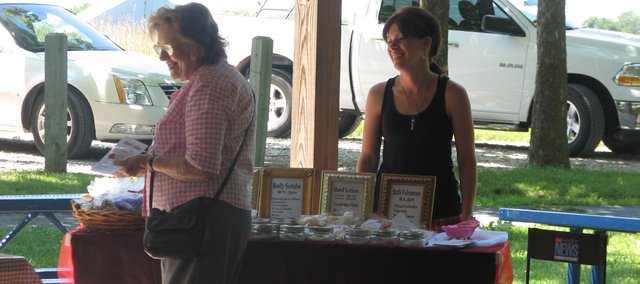 The demand was there for Basehor's first summer of farmer's markets. The challenge, organizers discovered, was the supply.
The final Basehor Historical Museum Society farmer's market of the season was Sunday, closing an inaugural run that organizers said left vendors and customers happy but also left much room for improvement.
"It was a strange growing year," said Jeanna Lucas, a member of the society's board of directors who helped organize the farmer's markets.
Perhaps the biggest way the markets could improve next year, organizers said, was to draw more vendors of fresh fruits and vegetables.
Carla Crawford, the society's director, said many customers came to the market in search of fresh-grown produce, but the markets had trouble meeting the demand.
"The fruit and vegetable venders that did come, they sold out almost every time they came," Crawford said.
Lucas, who first came up with the idea for the society to provide farmer's markets to raise money, said the idea sprang from her desire to find healthier, more natural food. She said other people often came to the markets for the same reason.
But she said securing vendors to sell fresh produce presented a challenge for many reasons. For one thing, she said, the schedule of the markets — biweekly on Sundays — may have made it difficult for vendors to sell fruits and vegetables that don't stay fresh for too long after they're harvested.
"When you have produce ready, it's ready," Lucas said. "You have to do something with it then and there."
Lucas said she encountered that problem when trying to sell vegetables from her garden. When she would have a crop of green beans or tomatoes ready, it would too often be more than a week until the next market.
To solve that problem, Lucas said the society may consider holding markets more often next year, perhaps weekly.
She said that the society had a bit of a late start this first year seeking out vendors, who may take their goods to several farmer's markets every weekend. She said earlier, more aggressive advertising might draw more vendors next year.
Crawford said the market may switch to a new location with more traffic flow next year, as well. This year's markets were held in Basehor City Park, except for the final one, which moved to the parking lot of Reece & Nichols near 155th Street and U.S. Highway 24-40.
Just because there were challenges this season didn't mean it wasn't a success, Crawford and Lucas said. Crawford said items such as baked goods, soaps and jewelry all sold well.
Lucas said the response left little doubt about Basehor's demand for a farmer's market.
"What was there, the people bought right up," she said. "People were ready to spend."
And the markets led to an opportunity for Lucas, she said: After her homemade granola mix sold well at the markets, she began talking with Hy-Vee about selling it in the company's local stores.
Over the winter, the society will evaluate how the markets went and decide what changes need to be made, Crawford said.
The society will also sponsor a holiday-themed indoor market from 9 a.m. to 3 p.m. Dec. 4 at the Basehor VFW Post, 2806 N. 155th Terr. Vendor booths will cost $15 each, and potential vendors can find a contract form at cityofbasehor.org.