Marching Bobcats ready for major festival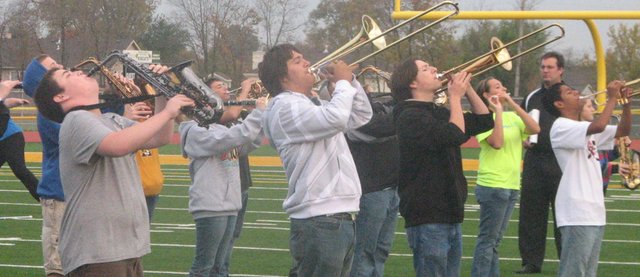 On this Monday morning, it's been nearly three months since the Basehor-Linwood High School marching band felt the 100-degree heat radiate off the artificial turf at band camp, and it's five days until the band's last and biggest festival of the year.
But there's still time to get better.
"That wasn't good. Do it again," director Curtis Westbrook says over a loudspeaker as he paces the field wearing a headset.
"Set one, movement one. Go! Go! Go!" he yells, clapping his hands as the members of the drumline run from the corner of the football field back toward the 50-yard line.
The band is preparing for the University of Central Missouri Festival of Champions, which stretches all day Saturday in Warrensburg, Mo. Westbrook said it would be the biggest competition the band has entered in his six years as director: 25 marching bands from around Missouri and Kansas, two rounds of competition and an expected attendance of 8,000.
The band won its division at competitions earlier this season at Bonner Springs High School and Kansas University, but at UCM the band will compete against more other bands than ever, and BLHS has never encountered any of them before.
Eight bands will compete in Basehor-Linwood's division, and BLHS plays last. Westbrook told the band Monday that he had no idea what to expect from the other seven bands, but he was confident.
"If we show up and bring our A-game, then those other seven bands are just opening for us," he said.
Gabe Vlasic, a senior who plays snare on the drumline, said he shared that confidence, and he wanted to encourage any music fans in Basehor or Linwood to join the thousands in the crowd.
"I feel like we could definitely make a name for Basehor-Linwood out at the competition Saturday," Vlasic said. "It's a big step, I mean, something we've never done before."
Besides any halftime performances at football playoff games, the UCM competition is the last event on the marching band's calendar. It's the culmination of a process that first began during the 2009 marching season's band camp, Westbrook said, when he and assistant director Ryan Kazmaier first started thinking about choosing a show based on the likely strengths and weaknesses of the group of students they would have this year.
He said the two have to select music that's challenging enough to help the students grow even as they play the same songs for three months, as well as interesting and entertaining enough to keep the attention of football crowds who will see the show at least three or four times.
For this year, they settled on a show using the music of the band Boston, including the songs "More Than a Feeling," "Foreplay/Long Time" and "Rock & Roll Band."
"I think we all agree on it being a blast," Vlasic said of the students.
For the students, the marching season kicked into full gear the first week of August, when they reported at 8 a.m. every day and stayed until 5 for band camp.
"We were here before everybody," Vlasic said. "I mean, the football team wasn't here. We were going from 8 in the morning and then marching out on hot turf all day."
Westbrook said it was always fun to watch the students — especially the freshman — become more confident in their marching technique and help the show come together as the season moves on.
"Their willingness to work hard and get better as a group, as a whole, is really something that I'm proud of," he said.
Alex Bright, a junior and the head drum major, said those experiences practicing and rehearsing together were really what made the marching band worth it.
"I just love the unity, and working towards a goal, and getting there, and having fun while doing it," Bright said.
For Fred Brown, a junior trombone player, the attraction of the band is simply in playing his instrument.
"I do it because I love the sound of a trombone," Brown said, "whether it's the loud, "I'm here!" marching band sound or the classic jazz sound."
And Vlasic said that for him, this is preparation for his career. He said he plans to study music education at Kansas State University — so he can be a director, "like Mr. Westbrook."
"Honestly, I think it's really inspirational to people," Vlasic said of music. "It helps motivate."
Bright, too, said she planned to continue with music in some fashion after she graduates.
"I couldn't not have it in my life," she said.
But whether the marching band inspires any of the students toward a music career, Townsend said he hoped that elements of the experience such as hard work, perseverance and leadership would stick with the students.
"It's not about the trophy or the score," he said. "It's about the journey. It's about growth, and it's about working together."
That growth is all too evident in some of the students whom Townsend has taught since middle school, he said.
"It's kind of rough sometimes, because it sneaks up on you and then you realize they're going to be gone in May," he said.