Road project priority topic of
KDOT

meeting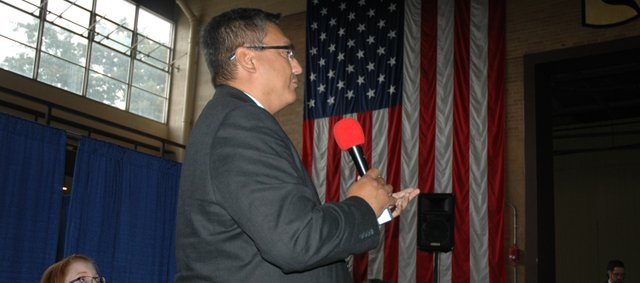 Portions of the Kansas Highway 7 and Interstate 70 interchange project in Wyandotte County made it to the top of a priority list of road projects during a public open house Friday in Kansas City, Kan.
The open house, conducted by the Kansas Department of Transportation and held at the National Guard Armory, was a chance for city officials, KDOT road engineers and a handful of public residents to discuss and prioritize the spending of $1.7 billion in funds that has been authorized by T-WORKS, a new transportation program passed by the state Legislature in May 2010.
During the meeting, attendees were sectioned off into 10 groups to discuss what road projects, out of 21 on the table, were most important to them. The list of projects included some phases of the K-7/I-70 interchange, the Interstate 35 expansion in Johnson County and the South Lawrence Trafficway.
Maggie Thompson, spokesperson for KDOT, said that list had been narrowed down over a period of four years of KDOT playing host to similar public meetings, with the original list of road projects up for discussion totaling more than 400. She said participants at Friday's open house were asked to consider those road projects that wouldn't only best serve their city's needs, but would also help to drive development throughout the state of Kansas.
"We really tried to push people to think regionally," Thompson said following the open house.
Members of each group made two lists, or tiers, of road projects, with tier one being top priority and those in tier two having not as much of a priority when it comes to the spending. Following the group discussions and a break for lunch, each group's lists were then discussed by the entire room of attendees as a whole.
Several KDOT representatives, including Secretary of Transportation Deb Miller, were on hand to not only address questions members of each group had, but to also ask questions of their own regarding the lists.
Projects of most priority to the majority of participants were the Southwest Lawrence Trafficway, the Gateway Project — which will include construction and improvements to Interstate 435, I-35 and Kansas Highway 10 — and phases one to three of the K-7/I-70 interchange project. Work in those phases will include the construction of ramps in the northwest and southwest quadrants of the interchange and the expansion of I-70 from four to six lanes from K-7 to 110th Street.
The open house, which was the second in a series of six similar meetings being held over the month of October throughout the state, served its purpose, Thompson said, in giving KDOT an idea of what those in the northeast region of the state believed to be projects of highest priority.
But Miller made sure to emphasize during the meeting that those projects making it to the top of groups' lists wouldn't necessarily be the ones chosen for the funding. She said a lot of factors, including public input, would go into the final decisions.
"I think it was really helpful, but it's not a vote," Miller said. "I think it's made a world of difference in terms of the understanding KDOT has in terms of (state road priorities). Your participation is ensuring better decisions are made on behalf of the taxpayers."
She warned, however, that General Election day, Nov. 2, would signal even more, and perhaps differing, opinions being brought to the table.
"New people will be in on the discussion following Nov. 2," Miller said. "We have to recognize that these are going to be some new decision-makers."
According to KDOT, the final projects won't be selected for funding until 2011 and actual construction on the chosen projects may not begin until several years later.