Soccer shocker: Tonganoxie upsets
BLHS

in regional playoffs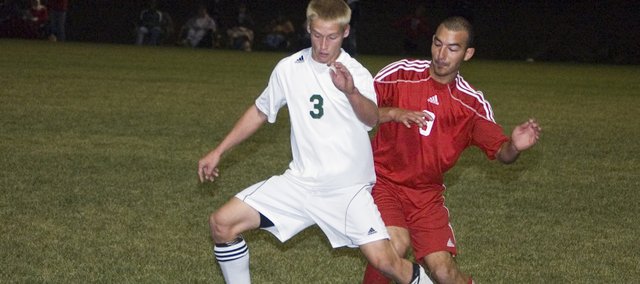 Basehor-Linwood entered the Class 4-1A boys soccer regional playoffs with dreams of advancing to the state tournament.
Those dreams were dashed with a 2-1 loss to Tonganoxie Tuesday night at BLHS.
BLHS entered as the No. 3 seed while No. 15 Tonganoxie had just one regular-season win before knocking off Perry-Lecompton on Monday.
The Bobcats defeated the Chieftains twice during the regular season, which gave BLHS confidence entering the game.
When play started, though, Tonganoxie battled Basehor-Linwood for 80 minutes, scoring two game-changing goals in the second half en route to a victory.
The two teams traded shots on goal in the first half, but neither one scored. Basehor-Linwood had chances to score in the half. Patrick Rutherford attempted a shot midway through the first period that sailed wide of the net. Other players took shot attempts, but none of them found the net.
Tonganoxie had its chances, too, including a late opportunity that was snuffed out by BLHS goalkeeper Russell Clark.
Tonganoxie gained momentum in the second half, scoring a goal when Evan Stilgenbauer put a header past Clark and into the net.
Tonganoxie took a two-goal lead when Matt Saathoff scored on a penalty kick.
Clark said he tried to guess Saathoff's body language and go that direction in attempting to make the save. Unfortunately, he didn't get much of an indication and Saathoff drilled the ball into the net.
Coach Austin Knipp said when Tonganoxie scored its second goal he knew that the team would need to find ways to answer quickly. Still, the team's offensive struggles continued.
"We absolutely could not put the ball away," Knipp said. "We played them twice and scouted them last night, so we knew what they were going to throw at us. It was just not our day."
For the rest of the second half, Basehor-Linwood attempted to tie the game. Among other shots on goal, Symon Seaton had a breakaway opportunity to score a goal, but fired wide of the goal with 22 minutes remaining.
Seaton scored with three minutes to go, but it wasn't enough to rally the Bobcats.
Following the game, Knipp said he wasn't totally sure what to tell his players.
"Honestly, I wasn't ready to give this speech yet," he said. "I credited the seniors; they have had three coaches in three years and a regional championship as freshmen."

Knipp credited Tonganoxie for giving the effort necessary to win.
"Credit Tonganoxie, they hustled to every ball and they wanted it bad," he said.
BLHS ended its season with a 10-5-2 record.
Tonganoxie (3-15-0) advances to play Maur Hill Academy (8-6-1) at 6 p.m. Thursday in the regional championship game.