Businesswoman trades bank job to open salon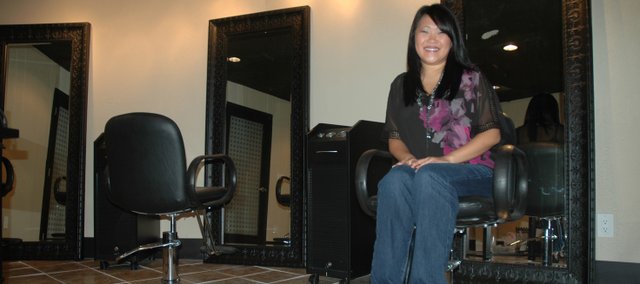 When Holly Mikkelsen graduated from college in Chicago with a double degree in international business and finance and a minor in Spanish, she immediately found a job working at a bank.
But Mikkelsen quickly figured out the day-to-day task of crunching numbers wasn't for her. Now, along with help from her husband, Marcus, Mikkelsen will be opening her own full-service salon in Bonner Springs.
"I've always loved fashion and I loved doing make-up," Mikkelsen said.
Two years ago, after leaving the banking world, Mikkelsen attended cosmetology school. She went to work at various salons in the Kansas City area but said she quickly saw the potential of owning her own salon.
Putting her business background to work, Mikkelsen went on the hunt for the perfect location for her first adventure in business ownership. Once a friend told her about the 515 office and apartment complex, at 515 Morse in Bonner Springs, Mikkelsen said she was sold on the location's proximity to Kansas City.
"It seemed like a great small town," she said. "Everyone knows each other."
Studio H2M, named after Mikkelsen's initials, is now open for business. Mikkelsen said her salon services women, men and children and offers a variety of services targeting hair, nails and skin.
For hair, Mikkelsen's list of services includes: haircuts, styling, deep conditioning treatments, hair color and straightening or relaxing. For nails, Studio H2M will offer: manicures, pedicures and paraffin treatments. Skincare will include make-up and waxing.
Mikkelsen said the salon would, in addition to individuals, cater to bridal parties and children's parties.
"I love having a job where I meet different people every day," she said. "I am a people person and I love getting to know different people."
Mikkelsen said she envisions her salon as an intimate setting, where customers don't have to feel rushed.
"People can come here to feel beautiful and to relax," she said. "We'll be different from other salons because we're laid back and we don't want people to feel rushed because the next client is waiting."
Mikkelsen said she'd also like to get the salon involved in community service projects. Her ideas so far include offering prom hairstyles for low-income high school students and offering her services at nursing homes.
Mikkelsen said she's looking forward to the adventure of starting her own business. Both her parents and her husband's parents owned businesses, so Mikkelsen said it feels like she's following in their footsteps.
For her future, Mikkelsen said she'd like to add multiple locations to her salon and even start her own product line.
But for now, Mikkelsen will focus on building her small Bonner Springs business. Studio H2M currently has three chairs and has room for a fourth if client numbers go up. Mikkelsen has been interviewing local residents for two stylists to join her at the salon.
"I'm just really excited for it to open. This is like my baby," she said. "I'm involved in all aspects."
To make an appointment, call Studio H2M at (913) 735-4426 or go online to studioh2m.com. Online appointments are available as well as a full list of services and prices.
"This is going to be a great journey," she said. "I just look forward to helping make people feel beautiful and building relationships with the community."