Ag Hall still struggling but going forward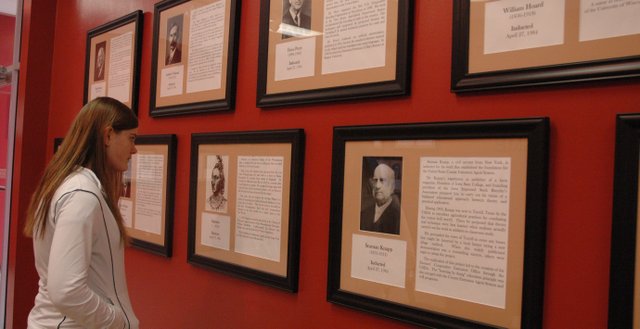 Those still working to keep the National Agricultural Center and Hall of Fame afloat probably don't attach much fondness to memories of the hall's 2009 season.
Facing financial conditions that nearly closed the center's doors permanently, Ag Hall officials laid off the entire staff. Prior to that, the entire board of directors stepped down at the request of members of the hall's governing board. They felt directors were taking the Ag Hall in a direction far from its original purpose — to serve as a museum and education center devoted to agriculture and farming.
But though wiping the slate clean has paved the way for new developments this season at the Ag Hall, Executive Director Cathi Hahner said there is much that has remained the same — namely, the center's unstable financial situation.
"You know, financially we … have made some significant cuts to the budget this year and … we're not getting any interest and dividend from an endowment (as we have in the past)," Hahner said. "So it's been a struggle, but we are staying in there."
Hahner's position as executive director is one of those new developments, though not entirely new. She served as the center's director for four years prior to Tim Daugherty taking over as director and chief executive officer in 2007. Daugherty's was one of the positions eliminated last season, and Hahner said she was approached by the governing board in April to fill the position on a temporary basis.
"I've just committed to the 2010 season," said Hahner, who served on the board of governors last year. "They needed a manager … you had to have somebody that was going to run the place."
As executive director, Hahner said she makes a yearly salary of $40,000 — far less than Daugherty's former salary of $125,000 per year, which comprised the bulk of last season's payroll expenses. Governing board chair Frank VanFleet said the salary was a "modest one" that was more in line with what the Ag Hall could afford. He said seeing Hahner's volunteer efforts prior to opening the center for the 2010 season made it clear she would be a worthwhile asset to the Ag Hall.

"She worked through the winter and you could see she had a lot of value," VanFleet said. "Cathi knows a lot of people and she's been involved with museums for a lot of years … Cathi has really helped us out a lot here. We just felt like we wouldn't be able to find anybody that was aware of what was happening at the Ag Hall and that could come in and take over and get the thing back on its feet."
Hahner now makes up one of three full-time staff members employed at the hall, with about 12 volunteers taking over additional day-to-day staffing duties. Hahner said the combined budget for all three employees was still less than Daugherty's former salary.
Another development this season has included the election of a new board of directors. The board of directors comprises elected members of the board of governors who handle the daily operations of the Ag Hall of Fame. New board of directors members include Dale Warman, president, Amy O'Rourke, vice president, and Steve Tuttle, secretary.
Having ended last season with only about $100,000 in funds borrowed from the center's Etta Blanche Dahlgren scholarship account — that amount will have to be paid back eventually — Hahner said the Ag Hall wasn't out of the woods yet. She said the $100,000 had been pretty much used up already, through having to pay outstanding bills and fulfill contractual obligations for one of the staff members laid off last year. And there is still a $270,000 operating budget this year to contend with, Hahner said.
"Right now, we are living off the earned income and, of course, what we're getting through donations and memberships," she said.
That earned income includes daily admission and admission to festivals, like July's Tractor Daze, which Hahner said was a "huge boost" for the center. Also bringing in funds were four facility rentals in August, she said.

Donations, on the other hand, have been in short supply up to this point. Hahner said that's because the governing board is still in the lengthy process of finalizing its strategic plan for how to save the Ag Hall. That plan will include specific goals for the center's growth and continuing success and specific ways the board intends to achieve those goals.
She said a finalized plan was a necessary component to have in place before the center can begin approaching potential donors for those larger donations. She said she didn't expect the board to have its plan in place, however, until year's end.
"Unfortunately, it's not a quick process," Hahner said.