BLHS

 wins Bobcat Invitational titles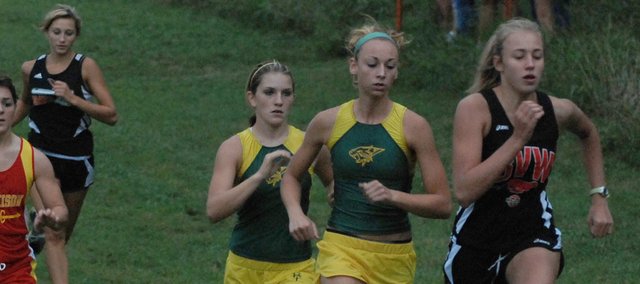 On a day when rain soaked the course and thunder and lightning delayed race action, the Basehor-Linwood boys and girls cross country teams successfully defended their titles at the Bobcat Invitational Thursday at Wyandotte County Park.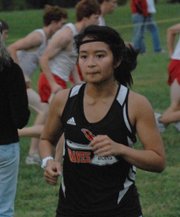 Great individual efforts contributed to the team victories, BLHS coach Jeff Venema said.
For her part, Ally Laney made running look easy in her first varsity race.
The freshman placed second overall with a time of 16:56.
Despite her success, Laney admitted she was a little scared before the race as a result of running in a field filled with mostly juniors and seniors.

When the race started, though, Laney quickly found herself near the front of the pack. She pushed herself and tried to catch Madelyn Johnson of Blue Valley Southwest who was in first place and pacing the field.
"I started pushing myself and kept pushing myself throughout the race," she said.
It became a two-person race between the two of them during the last half of the four-kilometer race.
"I was not real worried about who was behind me, I just wanted to catch the first girl," Laney said.
Johnson won the race with a time of 16 minutes, 45 seconds. Still Laney performed well in the race and finished in 16:56.
"She was fantastic and she will just compete and do whatever it takes to win," Venema said.
Laney's finish led Basehor-Linwood to a first-place team finish.
"Yeah I am really happy with how we did," Venema said. "It is a good start to where we want to be."
Teammate Hannah Tush, a 2009 state qualifier, stayed with Laney for much of the way before slipping to fifth place in 17:28.
Tush said she felt pretty good about her first performance of the season.
"I was happy with how the team did," she said. "I figured we would be strong, and we were."
Individually, though, she wants to keep improving.
"Yeah, I feel like I should be better," she said. "I am going to work hard. I left off where I was last season, and I am going to work harder. I run with the boys and I am going to keep running with them."
Shelby Miles joined Laney and Tush in the top 10 with a ninth-place finish in 17:57.
Haley Stallbaumer took 13th in 18:23 and Sheridan Miles rounded out the Bobcats' first five with a 16th-place finish in 18:33.
Also for BLHS, Sydney Weible took 20th in 18:56 and Sara Rehm was 33rd in 19:59.
The Bonner Springs girls finished fifth as a team, and they were paced by a strong effort from Scintilla Capalla.
She stayed near the front of the pack throughout the race and took fourth in 17:24.
For Capalla, it was something of a statement performance after she missed out on qualifying for state last year.
"I think I will use this as a memory, like a springboard to reach my goals no matter what obstacles I face or setbacks I get into," Capalla said of the positive experience of her first race.
Teammate Mandy Ballou, a 2009 state qualifier, paced Capalla most of the way before dropping to 10th in 18:02.
Also for BSHS, Tessa Newberry was 32nd in 19:53, Maryssa Peterson took 35th in 20:10 and Citially Alvarado was 36th in 20:32.
While nervous anticipation ushered in the girls' first race of the season, the boys' competition was welcomed with a half-hidden rainbow.
An airplane flew by as the last sprinkles of a late-summer thunderstorm fell to the ground. Spectators dotted the sideline ropes as boys varsity runners sprinted downhill in one final warm up.
The group of participants had waited out a 60-minute rain delay and were ready to run.
When the race started, runners dealt with the wet grounds.
Basehor-Linwood's Jonathan Oliva slipped on the first turn of the race and landed on the ground. He was able to recover and finish in sixth place in the five-kilometer race with a time of 18:35.
"Jonathan had a great day for his first varsity event," Venema said. "He has figured some things out."
Overall, Basehor-Linwood placed five in the top 14 to compile a winning team score. Jonathan Oliva earned a sixth-place finish in 18:35, Bryce Garver was ninth in 19:14, Mike Torrez took 10th in 19:19, Rob Peterson was 13th in 19:32 and Mitchell Cook took 14th in 19:37.
Also for BLHS, Mark Vitt took 17th in 19:45, Wyatt Kelly was 19th in 19:58 and Charles Lin was 32nd in 20:49.
"The race went great," Garver said. "We had a team of upperclassmen run well and we ran with pride the way had hoped to."
Venema said it was a strong performance for his team.
The one low point was that the team was without Brady Blackwood in the race. Blackwood tore his ACL in a backpacking accident and is likely through running this season.
"A lot of years that would really hurt us, but this year we might have the depth to overcome it," Venema said. "Still it is a huge loss. He would have been in the top two or three places of this meet."
Meanwhile, the Bonner Springs boys used a solid sophomore debut from T.J. Kimbrough to place third as a team.
Kimbrough worked hard throughout the summer in preparation for Thursday's season-opener. That work paid off as he placed fifth with a time of 18:31. He finished just ahead of Oliva and was pleased with how he ran in the race.
"I feel just phenomenal," Kimbrough said. "I trained for this and I worked really hard in the offseason for this."
While he would have liked to place higher in the race, it was a solid start to the season.
Teammate Matt Coffman joined him in the top 10 by placing seventh in 18:43. Coffman recently won the race at Tiblow Days and had quality back-to-back races in a short time frame, BSHS coach Bill Downing said.
Both runners battled the elements during the race as rain left the course soaking wet and runners covered in mud.
Also for BSHS, Austin Cobb was 22nd in 20:16, Josh Oden took 28th in 20:31, Zach Povlitzki was 34th in 20:54 and Tyler Johnson finished 47th in 22:20.
Downing said the team's performance was a good start to the season, and runners have worked hard to experience this type of success.
"Well, I thought both teams showed well with two top-10 finishes," Downing said. "The boys and girls teams moved up from where they were last season which is nice."