Bonner resident shines at trucking Super Bowl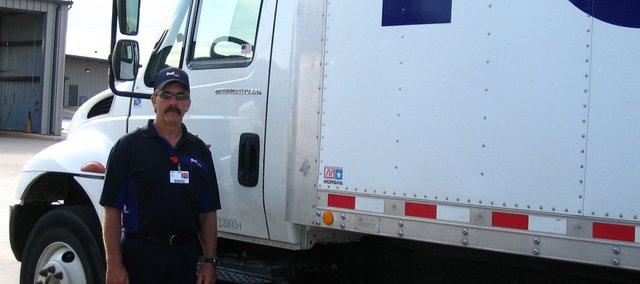 A Bonner Springs resident participated in the Super Bowl this year.
The Super Bowl for truck drivers, that is.
Through earning a winning spot in the Kansas Truck Driving Championship in June, Jay Miller got to move on to the National Truck Driving Championship, where he took second place in the Straight Truck Class. Known as the "Super Bowl of safety," the NTDC challenges truck drivers across the country to demonstrate their ability to handle any obstacle they may come across on the road safely and efficiently.
This year's competition was Aug. 3-7 in Columbus, Ohio. Miller, a driver with FedEx Freight in Kansas City, Kan., was up against 47 other professional truck drivers for a top spot in the championship.

"Oh, yeah, it feels great," Miller said of his second-place win. "It's nice to actually get to that level. I mean, you're competing … against 47 other guys that have won their state competitions … So, to finish that high was pretty amazing."
Though this was Miller's first time competing at the national level, he isn't new to the concept of putting road safety to the test. He has competed in the state competition for the past 10 years, taking part in several of the nine categories of truck classes available, including tank truck and sleeper berth.
"I jump around," Miller says.
Challengers in each class of the state competition must take a written test, a pre-trip test, where they identify several items that are wrong with the vehicle, and an obstacle course. Only first-place winners in each class may go on to the national competition.
"This was the first year I actually won the state (championship)," Miller said, noting that he has placed second and third in previous competitions.
To even compete at the state level, Miller said, a truck driver has to be accident-free for the entire year leading up to the championship. Ten consecutive years of competitions suggests Miller's prowess on the road is pretty well intact, but he gives a lot of the credit for that to the championships themselves.
"I do it because it works," Miller said of competing every year, adding that while taking part in the championship is encouraged by FedEx, it isn't mandatory. "It improves my driving skills and it gives us a chance to prove that on the (obstacle) course. I'm definitely a better driver than I was before I started this program."
Truck driving isn't the only passion Miller possesses — he spends his time outside of work training and working with mustang horses on a farm he owns — but it more than likely is the one he has held onto the longest. He has been a truck driver for 29 years, following in the footsteps of his father.
"My dad was a truck driver for a lot of years … and I was always fascinated … with the shiny trucks and all that," Miller said. "But then when I found out you could get paid … driving all over the countryside, and I like to travel anyway, it seemed like a perfect fit for me."
Miller said driving trucks and taking part in trucking championships every year have taught him how to be patient and that safety always comes first when you're behind the wheel of a truck. He plans on competing again next year, and there's no question as to which class he will compete in.
"I've got a title to defend so, yeah, straight truck again," Miller said. "The pressure's really on now, because I've (won) once and I've got to prove that it wasn't a fluke."