District touts $39.9 million bond issue allocations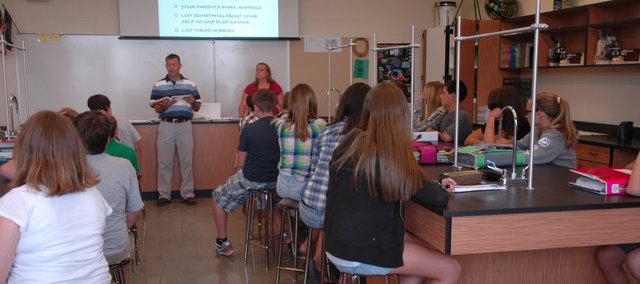 A tour of the Basehor-Linwood school district may be enough to convince anyone of the power of just a few votes.
Students experiment in science labs instead of reading from books. Choirs and bands practice on risers, rather than in cafeterias or hallways. Kindergartners stay at school all day.
And all of it happened because of 35 votes.
Nearly three years after Basehor-Linwood School District voters approved a $39.9 million bond issue by that margin, the major projects are almost finished. The new Basehor-Linwood Middle School at 15900 Conley Rd., the last and the priciest of the projects, has been open for nearly three weeks, though it still awaits some finishing touches, such as a sewer connection and gymnasium bleachers.
All in all, the projects the district planned when it proposed the bond issue will likely be completed under budget by a few million dollars.
Here's a budget breakdown:
• Superintendent David Howard said he projects the new middle school, for which the district originally budgeted about $24.8 million, will be finished with a total cost of about $21 million.
• Basehor Intermediate School, 15241 Basehor Boulevard, the other new building provided for by the bond issue, cost the district $10.5 million compared with a budget of $11.5 million, Howard said.
• A six-classroom addition at Glenwood Ridge Elementary School cost the district $2.3 million in all, versus a budgeted $2.5 million.
• Improvements at Linwood Elementary School cost the district $1 million, compared with an announced budget of $750,000.
• And a new soccer field at Basehor-Linwood High School was right on budget at $400,000.
Howard said the district would use the extra money provided by the bond issue to cover improvements to the high school's football field, including an artificial surface and a new track.
"For the most part the projects have gone pretty smoothly," Howard said.
Though the projects have come in under budget, the district has raised its bond mill levy by about 12 mills since 2007, when the bond issue was passed. When the district proposed the bond issue, it projected an increase of about 9 mills.
Howard said the higher-than-expected increase could be chalked up to the housing market downturn that has taken place since then. Property values have not grown at the rate projected at the time the bill was passed, meaning the district had to raise its levy by a higher percentage to meet its bond obligations.
A mill is $1 in taxes for every $1,000 in assessed property valuation.
At the new middle school, those taxes have helped provide an experience that's better for students in many ways, said principal Mike Wiley.
"The biggest thing that you notice as you walk in — you'll see students that are able to spread out in classrooms and be more active in their learning as opposed to being more confined in the past," Wiley said.
Wiley said state-of-the-art science labs allow students to explore scientific concepts instead of just reading about them. Thanks to dedicated rooms for the choir and band, the groups' practices can more closely resemble their performances. Before, Wiley said, they would practice in cafeterias or multipurpose rooms.
New classrooms include improved technology, such as LCD projectors in each room, which allow teachers to use online resources and put class materials on the web. And everyone has a bit more room to breathe.
"We're just absolutely loving our space," Wiley said.
Teri Boyd, principal of Basehor Elementary School and the new Basehor Intermediate School, said the building of the intermediate school solved a lot of space problems, as well.
"I was packed," Boyd said.
She said that some of the elementary school's support staff — its occupational therapist, physical therapist and others — did not have classrooms out of which to operate and had to share space in a book storage room. Now those staff members have their own classrooms.
"It has just helped a lot with serving students with special needs," Boyd said.
The new intermediate school, Boyd said, was ideally designed for classroom instruction, with classrooms clumped together in one section of the building to eliminate distractions from other activities going on nearby.
The space opened up by the intermediate school, along with the addition to Glenwood Ridge Elementary, also allowed the district to offer full-day kindergarten across the district. The Glenwood Ridge addition also opened up rooms for the band and orchestra, which were practicing in the hallways, said Kaci Brutto, district communications coordinator.