Museum's exhibit addresses German, Russian emigrants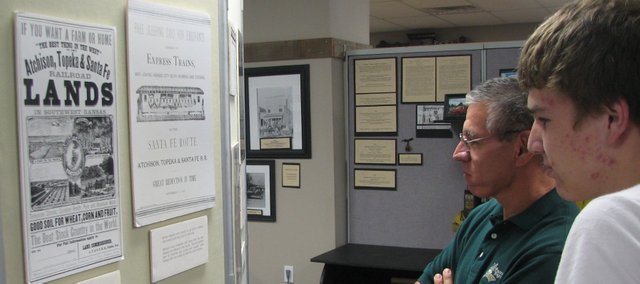 They'd moved eastward from Germany into Russia in pursuit of freedom, but that freedom was evaporating. They needed someplace new, and for thousands, that place was halfway across the world in Kansas.
These emigrants, who came to the state during the 1870s, are the subject of "From Far Away Russia: Russian-Germans in Kansas," an exhibit on display this month at the Basehor Historical Museum, at 2812 N. 155th St.
"This one we picked because of the German heritage in Basehor," said Carla Crawford, the museum's director.
The Russian-Germans were more German than Russian. They left Germany in the mid-1700s, but after a century they began to lose the freedom from taxes and military service that had drawn them there, according to the Kansas State Historical Society, which is loaning the exhibit.
It was at about this time that two Kansas railroads launched efforts to attract farmers who would use their rails to ship crops. The railroads sent German-language advertisements and recruitment agents to Russia, and by the end of the decade about 12,000 Russian-German immigrants had made their way to Kansas.
The state promised land with easy access to railways for shipping, and a state law allowed people to claim exemption from military service because of their religious beliefs. This appealed to a large number of the Russian-Germans who were Mennonites and objected to military service.
The exhibit is sponsored by Chris and Janice Garcia of Basehor. Chris Garcia, a former Basehor mayor, said his father worked for the Santa Fe Railway, one of the railroads that helped draw the immigrants.
"That tie is pretty interesting," Garcia said.
The exhibit chronicles the immigrants' journey and adjustment to life in Kansas, using photos, newspaper clippings and handbills.
Garcia said it was well worth the amount it took to sponsor it.
"I appreciate the Museum Historical Society and the things they do for the community, and the new and exciting exhibits they bring," he said.
The exhibit runs through Sept. 28. It is the last sponsored exhibit of the year for the museum, and Crawford said the museum was looking for sponsors for next year. Anyone interested in sponsoring an exhibit can call the museum at (913) 724-4022.
The museum is open to the public from 9 a.m. to noon on Tuesdays, from 1 p.m. to 4 p.m. on Thursdays and from 9 a.m. to 2 p.m. on Saturdays. Admission is free, but Crawford said donations are welcome.