Neighbors: Jessica Thomas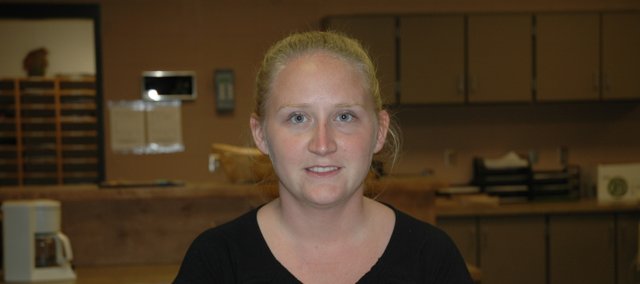 Jessica Thomas
Occupation: Office manager at Bonner Springs High School
Family: Parents, Bill and Naomi Thomas; sister, Cinda Arnett
Place of birth: Kansas City, Kan.
Q: When did you move to Bonner Springs, and what brought you here?
A: My family moved here when I was in the third grade, about 15 years ago. My parents bought a house here.
Q: What's the biggest risk you've ever taken?
A: Taking the job as office manager at BSHS. It's really out of my comfort zone. I am very shy and I have to talk to a lot of people every day at this job.
Q: What's the best piece of advice you've ever been given?
A: Be nice to everyone because you never know if you'll work for them some day or see them again.
Q: What three things would you want people to know about you?
A: I love spending time with my family. I attend Wyandotte County Christian Church. During the summer, I work as a nurse at church camp.
Q: What did you want to be when you grew up?
A: I've always wanted to be a mother.
Q: What's your ideal vacation spot?
A: Hawaii, where it's nice, warm weather.
Favorites:
Song: I'm not really into music.
Color: Blue
Food: Mexican