State representative candidates meet public in joint appearance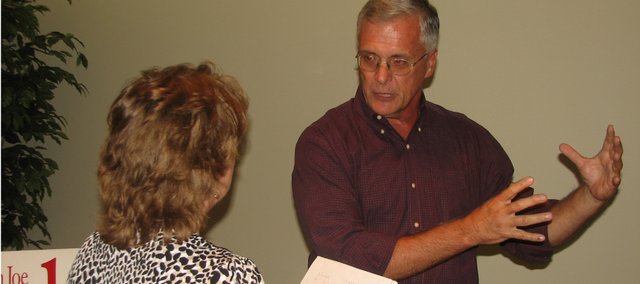 Area residents kept state representative candidates Owen Donohoe and Joe Novak busy Thursday at Basehor Community Library.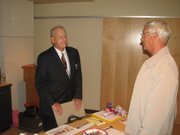 At the library's open house event, the two candidates spent about an hour and a half surrounded by groups of potential voters who had no shortage of questions.
Donohoe, an incumbent Republican from Shawnee, and Novak, a Democrat also from Shawnee, are vying for the 39th District seat in the Kansas House of Representatives. The 39th District covers western Wyandotte County, northwestern Johnson County and eastern Leavenworth County, including Basehor, Bonner Springs and part of Shawnee.
John Foley of Basehor said he came to the event so he could ask Donohoe about the state's priorities in repairing highway interchanges and about the possibility of the state challenging the national health care reform law passed this year.
"They're supposed to be representing us, not representing themselves," Foley said.
Marilyn Townsend, of Basehor, said she came to the event because she knew little about politics in Kansas and wanted to learn more. She said she was pleased to see that Novak supported the greater use of alternative energy.
"I've always been amazed that Kansas doesn't have more wind and solar power," Townsend said.
Novak handed out information sheets about alternative energy at the event.
"Alternative energy is not going to be the end-all for the future of Kansas, but we're missing the boat," Novak said. "And if we don't get going on it, we will be a consumer of everybody else's alternative energy and not a producer."
Novak said the topics discussed ranged from abortion and homosexuality to education spending and utility bills.
Walter Heimbaugh, who lives in unincorporated Leavenworth County, was one who asked about utility bills. He expressed frustration that he was paying more for his water bill than for his electricity. He said he thought both candidates were trying to do the right thing.
"We're a growing community, and we have a lot of growing pains that need to be addressed," Heimbaugh said. "Leadership needs to address those issues."
Donohoe said people he talked to at the event had concerns about government spending and debt, and he said controlling those things was a major focus of his.
"It's just a simple fact that we continue to spend more money than we take in," Donohoe said. "And so we have to discipline ourselves, just like everybody else disciplines themselves."
Donohoe was elected to the 39th District seat in 2006. Novak, a retired high school principal, also challenged Donohoe in the 2008 election, receiving 7,657 votes to Donohoe's 8,061.
Novak and Donohoe both said they appreciated the opportunity to meet with residents at the library.
"It's a good use of the public dollar," Novak said. "People paid to have this building built."