Bobcats show progress at Lansing Invitational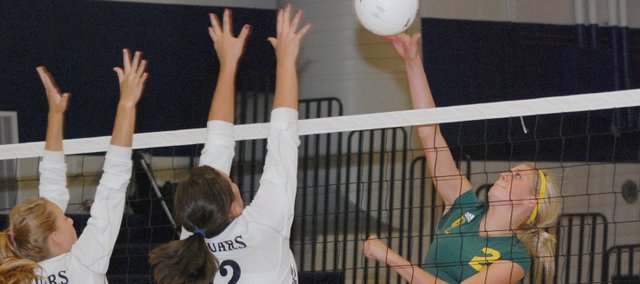 Basehor-Linwood improved its overall place in the Lansing Invitational on Saturday.
Photo Gallery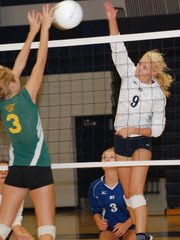 Mill Valley triangular
After failing to place in last year's tournament, the Bobcats placed sixth in a tournament that routinely features top programs in Class 6A, Class 5A and Class 4A.
Placing is a sign of progress for the team, and coach Tammy Zydlo said she wants her squad to continue working on playing consistent volleyball, improving communication and continuing to serve the ball tough.
"I believe in our ability and athleticism, and I've seen some really great play at the beginning of the season," she said.
Lansing won the tournament title by beating Olathe Northwest in the finals. De Soto placed third and Spring Hill took fourth. BLHS lost to Louisburg in the fifth-place match.
Piper finished seventh and Shawnee Mission West was eighth. Sabetha and Shawnee Mission North did not advance to bracket play.
The Bobcats finished 1-3 in pool play and then entered the consolation bracket with a match against Piper.
Basehor-Linwood lost the first game 25-16. Missed serves played a critical role in the game. The missed serves shifted momentum to Piper and made it difficult for BLHS to get rolling on offense.
BLHS improved its performance in the final two games and won them both.
"The turning point for us was that we stopped missing our serves and we started to communicate better as a team because we really had to move to get to the tips," Zydlo said. "I'm very proud of the girls for staying composed in the second and third sets. Piper tipped a lot, and we did a good job of getting to the ball. Piper played a really good game defensively, which shows in our 'attempt' stats."
Basehor-Linwood hitters had 60 attempts and a total of 20 kills in the match. Samantha Rutherford led the team with six kills and Brandi Stahl and Courtney Poe each had four kills.
"I thought Sam Rutherford did a great job of hitting the quick sets that Macyn (Sanders) set to her, and that made a big difference for us," Zydlo said. "But really, it was a team effort with everyone having to work hard to pick up the tips."
Following the victory against Piper, Basehor-Linwood lost to Louisburg in the fifth-place match, 25-12, 25-16.
The Bobcats played a little flat in the match, which was the team's sixth of the day. Basehor-Linwood did not record an ace in the match and had just three blocks.
Shelby Equels led the team with six kills and sophomore Jamie Johnson had three kills.
Pool play
Basehor-Linwood finished pool play with a 1-3 record.
BLHS lost to Olathe Northwest in the first round, 25-13, 25-13. The Ravens — ranked No. 3 in the Class 6A state poll — had a major size advantage with four players standing at least 6 feet tall.
Rutherford led the team with four kills in the match. Stahl and Poe each added three kills. The team also had five aces.
In the next match, Basehor-Linwood lost to De Soto in three games, 20-25, 25-19, 25-23.
Rutherford led the Bobcats with eight kills. Poe, Sanders and Equels each had two aces. Sydne Eriksen led the team with three blocks.
Basehor-Linwood earned its only win of pool play against Shawnee Mission North, winning 25-21, 25-17.
Louisburg defeated Basehor-Linwood in the final match of pool play, 25-12, 25-16. Stahl led the Bobcats with five kills.