Bonner resident wins title of Miss Rodeo Kansas 2011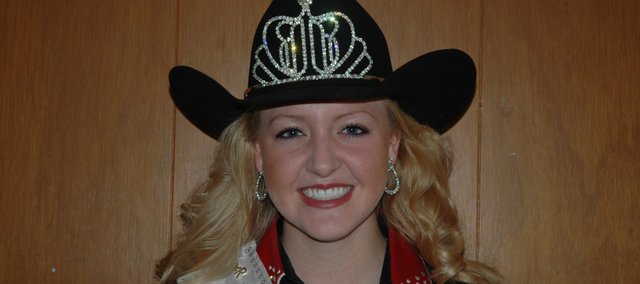 From a family pastime, Alyssa Morrison developed a passion for horses and the sport of rodeo beginning at the age of six.
Now, at 21, she has parlayed that passion into a crown and the title of Miss Rodeo Kansas 2011.
"I'm so excited," Morrison, from Bonner Springs, said of earning the title at the recent Professional Rodeo Cowboys Association Dodge City Roundup Rodeo. "It's been a dream of mine since I was 12 years old to earn the Miss Rodeo Kansas title and have the opportunity to compete in Miss Rodeo America next year."
At 12 years old, Morrison began competing in rodeo pageants and has earned several pageant titles over the years, including the title of Abdallah Shrine Rodeo Queen, which she earned at a 2008 PRCA rodeo in Tonganoxie. But she says she began getting the horse and rodeo bug at the age of six from an older sister, who had an interest in horses that inspired the whole family to take on that interest as well. Soon, Morrison recalls, all of her family began attending horse events and rodeos on the weekends as a way to spend time together.
Now as Miss Rodeo Kansas, a title she will hold and crown she will officially wear in January 2011, Morrison will have the opportunity to travel to rodeos across the country as well as Canada. She will also get a chance to compete in next year's national competition Miss Rodeo America.

To earn the Miss Rodeo Kansas title, Morrison had to go through four days of extensive interviewing, modeling and horsemanship testing. She was only up against one other contestant, Kendra Smith, but she said it wasn't an easy competition by any means.
"It's a pretty difficult four days," Morrison said.
Though she placed first in each of the pageant competitions, Morrison said she was still surprised to hear her name called as the winner. Surprise wasn't the only feeling she experienced, however.
"It was an amazing feeling … it was just like euphoria, like you (feel) so much joy and I was just so excited," Morrison said, noting that immediately after having the crown placed on her cowgirl hat, she was thrown into her first duties as Miss Rodeo Kansas. These included making her first queen's run around the rodeo grounds in front of a packed audience and leading the grand entry, which officially opens the rodeo competition. "It was just a whirlwind all at once. My journey had started," she said.
Morrison is also a nursing major at MidAmerica Nazarene University in Olathe, and she expects to graduate next May.
She says it will be "interesting" balancing her college duties with her duties as rodeo queen, but her enthusiasm for both suggests she'll be able to handle the balancing act. And regardless of where she ends up in her nursing career, Morrison says there's one focus she will never let go of.
"Horses (are) definitely a huge passion of mine," she said. "I'll stay involved in the horse industry for the rest of my life."

For now, though, Morrison will place her immediate focus on her upcoming duties as Miss Rodeo Kansas — duties she said she's anxious to take on.
"I'm so excited for this opportunity," Morrison said. "And it's a once-in-a-lifetime chance to travel and see everything and represent the state of Kansas, and I'm so excited to have this chance to do everything and take advantage of every opportunity that this gives me."