Business owner takes leap of faith with new electric company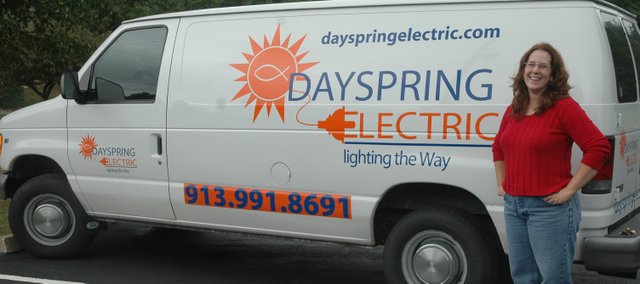 More than 14 years ago Sandy Scubelek walked herself into an employment agency looking for direction.
As a single mother who said she "had no clue what (she) was going to do to support (her) family," Scubelek got a surprise when the woman working at the agency suggested an apprenticeship program such as the one to become an electrician.
"If I knew who that woman was today I would find her and thank her," Scubelek said. "It was amazing. It changed my life. I was clueless about the apprenticeship opportunities that were out there. To go to school at no cost except for my books. (The apprenticeship program) is a great opportunity not just for women but for anyone not prepared financially to go to college. It was a blessing."
The now master electrician with more than 14 years of experience has decided to take another leap of faith and recently started her own business in Edwardsville, Dayspring Electric, 10601 Kaw Drive, Suite C.
Making the transition from being an electrician who works for a large company to being the owner and contractor of her own company has been overwhelming at times, but Scubelek said she's ready.
"It's a whole new world learning what it means to be a contractor," Scubelek said. "It's very new to me. It's easier to go to work everyday with my tools and do what I'm told."
From the administrative side, such as payroll and taxes to actually being the one bidding and securing the work, Scubelek said the role of a contractor has been a learning experience.
But, Scubelek said, she's been working toward this moment of opening her own business for several years. Scubelek said since the idea of a business first formed in her mind, she's been working to secure certifications and paperwork to ensure everything was in order before she took the leap. Many of those certifications actually had to do with her being female.
"Being a woman-owned business is a big deal," Scubelek said, aware of the fact that not only is she in the minority of business owners but also in the electric field. "Construction isn't for every woman, but some could enjoy it as much as I do."
In addition to being woman-owned, Scubelek said what sets her apart from other companies is her faith and how that improves her work.
"Faith is a tremendously important part of my life," Scubelek said. "It really motivated me to become a contractor so I could really make a difference."
From her company's name — Dayspring, which is another name for Christ — to her logo — a sun and the Christian fish or Ichtys — Scubelek has incorporated her faith fully into her business.
"I wanted to create a company where I can have the ability, through electricity, to be a blessing to others like it was in my life," Scubelek said.
Scubelek has three electricians working for her and plans to hire another in the coming weeks. Dayspring Electric specializes in electrical work for commercial residential applications including hospitals, energy managements, troubleshooting and green energy.
To contact Dayspring Electric, go online to dayspringelectric.com or call (913) 991-8691.