Captured inmates use Basehor to stay off main roads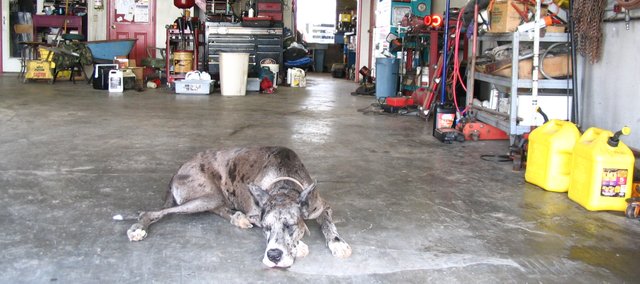 They'd escaped a maximum-security youth home, stolen two cars and traveled more than 850 miles westward, evading the law's grasp all the way.
But that was before they had to contend with Karma and Cuddles, the two Great Danes who keep watch overnight at B and B Garage and Tow in Basehor. That was also before they had to contend with a police officer familiar enough with his town to know that if those dogs were barking, something out of the ordinary was going on.
The alertness of Basehor police its guard dogs were the keys to the Basehor Police Department capturing three escaped inmates from the West Virginia Salem Industrial Home for Youth last week.
Brandon Carroll and Michael Sharp, both 19, and David Greathouse, 18, escaped from the home in Harrison County, W.Va., at about 1 p.m. on Sept. 6. About 36 hours later, they found themselves walking through Basehor, looking for food and money for gas, Basehor police chief Lloyd Martley said.
The men told police they were heading for Colorado, where some friends lived. Martley said they were probably trying to avoid major highways such as Interstate 70, which is why they happened to come through Basehor as police in West Virginia searched their hometowns there.
While investigating an unrelated call at Basehor Town Square off of North 155th Street at about 1 a.m. on Sept. 8, an officer heard the sound of dogs barking over in the direction of B & B, at 1300 N. 155th St. The officer, who regularly works a shift at that time, knew those dogs were not in the habit of barking in the middle of the night.
"Normally those two don't make any noise, hardly at all," said Frank Brannon, owner of B & B.
He said it was the first time the two had caught people acting suspiciously — one look at the 140-pound Karma and the 130-pound Cuddles is usually enough to keep wrongdoers away, he said.
Martley had instructed officers to keep an eye out for break-ins at a construction site just behind B & B, and the officer suspected that such a break-in was why the dogs were barking. But as he and other officers came toward B & B, they saw three men walking south on 155th Street.
When the officers stopped to talk, the men took off running, Martley said.
"When a cop turns to talk to them, and they take off running, that's a good indication that they're up to nothing good," Martley said.
So the officers began pursuing them on foot. One man they captured right away nearby. Another hid behind Community National Bank, across Highway 24/40 on Pinehurst Drive. The third took off for the car they were driving, parked at Little Angels Learning Center at 1206 N. 155th St.
Martley said it took about half an hour for officers to round them up, with help from the Tonganoxie Police Department.
After they were caught, one of the men told the officers who they were, and that they'd broken into First Baptist Church at 1410 N. 155th St., to try to find food or money, until they were scared by a phone ringing because of an incoming fax.
Martley said the men were considered armed and dangerous. Among their convictions were attempted murder and kidnapping for Carroll, malicious assault for Sharp and grand larceny for Greathouse.
"They were some pretty bad dudes," Martley said.
Leavenworth County Attorney Todd Thompson decided not to charge the men with any crimes in Kansas, choosing just to extradite them back to West Virginia.
Martley credited his officers with quick thinking and good police work.
"It helps to know our community, and our officers did a great job of proactive policing," Martley said.
Of course, Karma and Cuddles helped, too.
"That's what they're here for," Brannon said, "to guard the place at night."