Internet safety talk makes impact on students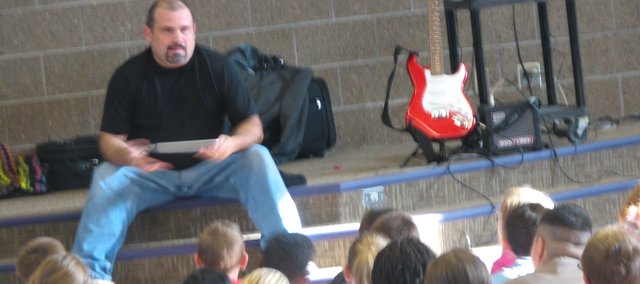 Children and teens have always made mistakes, but today they can see those mistakes spit out by a search engine.
Kevin Honeycutt, an Internet safety speaker from central Kansas, talked to Basehor students and parents Monday about that and other uniquely 21st-century problems children might face.
"I did some stupid things when I was a kid, but you can't prove it," Honeycutt said at Basehor-Linwood Middle School, "and you can't Google it."
Honeycutt, a former art teacher and a school board member in Inman, spoke to four groups: the middle-schoolers, Basehor-Linwood High School students, elementary students from grades 3-5 and, in the evening, parents.
He said that he'd learned from interactions from teachers and parents that not enough children are taught about the potential consequences of their digital actions.
"No one taught me to be an online parent," he said.
The best advice he could give to parents trying to make sense of their children's electronic habits was take their digital platforms for a test drive — experiment with instant-messaging software, Facebook or Twitter to see what exactly kids are doing online.
"Play on the same playgrounds your kids are playing on," Honeycutt said.
For instance, he told the middle school students that when he found out his son was instant messaging his friends, he explored the software and found an option that allowed a user to automatically save the text of all his or her chats. This, he said, suggested that the words his son typed during a conversation with a friend could end up in places he didn't expect, especially with the fickle nature of preteen relationships.
"I tell my son, 'Never say anything online, even in chat, that you wouldn't want the world to know about,'" Honeycutt said to the middle school students.
Trent Smith, a senior at BLHS, agreed — words typed into a instant message window can end up being read by unwanted eyes, sometimes in misleading fashion, he said.
"People can manipulate it in so many ways," Smith said.
But Honeycutt's message was far from only doom and gloom — he demonstrated several ways that technology, used correctly, could open possibilities for learning, creating and imagining. A student today can learn to play guitar from iPhone Apps and YouTube videos. An aspiring architect or interior designer can make three-dimensional models in minutes using Google's free SketchUp modeling software.
"I make my kid pay 'rent' on his laptop," Honeycutt said. "Rent. That means every week I have to see something he's done I'm proud of, or I take the laptop."
Children today have a knack for picking up new technology unlike any generation before, Honeycutt tells them, and it's up to them to turn that into something positive.
"Don't just play games," he said. "Don't just play with what other people invented. Learn something!"