Planner dedicates AutumnFest to community's families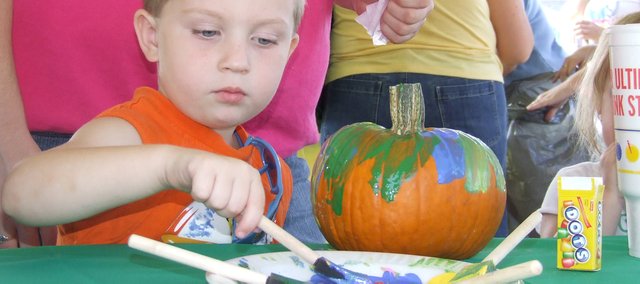 The 21st AutumnFest is days away and Edwardsville is kicking it into high gear to prepare for the annual festival.
This year's AutumnFest will be Friday, Sept. 17, and Saturday, Sept. 18. Leading the organization of the event is Edwardsville City Clerk Phyllis Freeman, who has been helping with the festival since its beginning 21 years ago.
"Our main goal is family and giving back to the community," Freeman said. "Our focus has always been on giving families something special to do."
Tickets for the the Mayor's Prayer Breakfast, going on 7:30 a.m. Saturday, are $10 and are on sale from Edwardsville Kiwanis Club members or at Edwardsville City Hall, 690 S. Fourth St. This year's featured speaker will be the Rev. Richard Copeland, pastor of the De Soto Baptist Church.
Also on sale are wristbands for the carnival rides, which are open from 9 a.m. to 7 p.m. Saturday. People can purchase a wristband for $10 before the event or $12 the day of the event. Wristbands provide access to the rides all day and are on sale at Edwardsville City Hall and at Bank Midwest, 110 S. Fourth St.
Freeman said she is still looking for volunteers to help run the old-fashioned children's games that will be set up all day long. Barbecue contest organizer Mark Bishop is also in search of volunteers.
He said he needs people to help set up the contest and judging sites the day before the event and also needs a few more Kansas City Barbecue Society-certified judges. Those interested in volunteering can call City Hall at (913) 441-3707.
All AutumnFest events, besides the Mayor's Prayer Breakfast, will take place around Edwardsville Plaza, 530 S. Fourth St. The schedule of AutumnFest activities is as follows:
Friday, Sept. 17
• 10 a.m.: Check-in begins for Smokin' N the Ville barbecue competition
• 7 p.m.: Free live concert, The Groove Pilots
Saturday, Sept. 18
• 7:30 a.m.: Edwardsville Kiwanis Club Mayor's Prayer Breakfast, Edwardsville Elementary School, 1700 S. 104th St.
• 9 a.m.: Children's rides and activities open
• 9 a.m.: Craft sale and commercial vendors open
• 10 a.m.: Parade, starting at 9th and Blake streets and continuing down Blake to Edwardsville Plaza
• 11 a.m.: DJ and Edwardsville Idol live on stage.
• 11 a.m.: Car, motorcycle and truck show
• 11 a.m.: Children's pumpkin decorating contest
• 11 a.m.: Submit salsa, chili and pie contest entries at main tent
• 12 p.m.: Judging begins for barbecue, salsa, chili and pie contests
• 2:30 p.m.: Meet and greet with "Almost Kissed," a Kiss cover band, Mac's­­­­ Place, 580 S. Fourth St.
• 5 p.m.: Announcement of winners in barbecue, salsa, chili and pie contests
• 6 p.m.: BINGO, Edwardsville Community Center, 696 S. Third St.
• 6 p.m.: Live free concert, Classic Revolution
• 8 p.m.: Live free concert, Scooter Trash