Here's where Kansas education is headed
Legislature hears report from state commission
Earlier this month, legislators heard a startling report from the Kansas Education Commission. It was startling not just because it painted a challenging picture for educators and taxpayers, but because it reflects what I have been warning for years:
Transparency, accountability and achievement must be at the core of education reform in Kansas.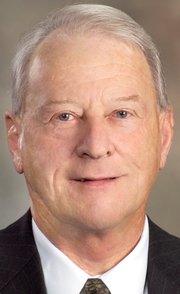 The Kansas Education Commission was formed in May by the State Board of Education to tackle the mandates of the Obama Administration's A Blueprint for Reform. These federal mandates take the educational standards of their predecessor –the federal No Child Left Behind program – to a whole new level – a level that will create federal and state bureaucracies that take us further away from helping teachers and students achieve.
Until recently, state and federal education bureaucrats have avoided standards of accountability. Kansas dropped out of the Race To The Top federal grant program this spring because our state Education Department had established no standards with which to meet the requirements of the new federal mandates.
Federal mandates strip local – and parental – control of education.
The federal mandates required of Kansas are aimed at providing national standardization, rather than targets of excellence that could be established locally. For parents seeking to direct their children's education, this is bad news. For teachers who go the extra mile to help their students achieve, this forced standardization can be a bureaucratic impasse.
Though the federal standards sound good on the surface, they place an enormous administrative burden on states like Kansas, and will inevitably force an even bigger educational bureaucracy at both the state and federal level. This is unfortunate, especially at a time when more focus is needed on achievement in the classroom. (Several local school districts failed to meet federal benchmarks recently.)
Federal mandates – like the ones imposed on the Kansas Education Commission – are not the answer. Data is already compiled by states about school performance, and it should be shared with parents and taxpayers. We should empower parents to act on that information.
The federal government's "blueprint" for reauthorization of the Elementary and Secondary Education Act (ESEA) creates strong pressure for states to create expensive bureaucracies to meet national standards. The Obama Administration is crafting both incentives (Race To The Top) and penalties (denied access to Title I funding) to adopt national standards and tests. As a result, schools will be more accountable to Washington, D.C. than they are to parents and local taxpayers.
Get educated about Kansas education.
This fall I will be meeting with the Commission and other legislators to discuss the impact on Kansas schools and communities. I urge you to follow these developments and share your thoughts and concerns with me.
— Rep. Owen Donohoe represents the 39th House District in Kansas, which includes western Shawnee, Bonner Springs and Basehor. He has served on the House Appropriations, Budget, Education, Economic Development, Health and Human Services, and Aging and Long Term Care committees.