Moore, Yoder again square off in debate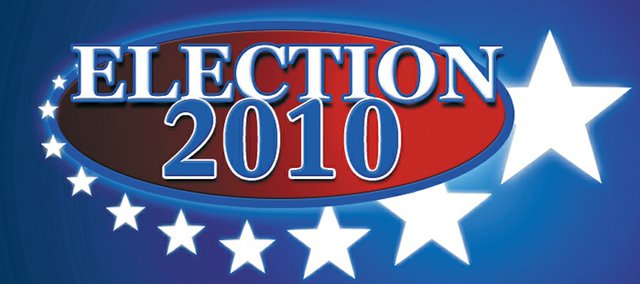 Candidates for the 3rd Congressional District on Wednesday debated on topics including education, health care reform and climate change.
Democrat Stephene Moore, Libertarian Jasmin Talbert and Republican Kevin Yoder spoke at the Johnson County Public Policy Council's candidate forum in Overland Park. Moore and Yoder used many of their responses to make negative points about, and distance themselves from, each other on a variety of issues.
Yoder said electing someone who would not support "the status quo" of greater government spending and regulation and raising taxes.
"I believe our country is off track," Yoder said, noting the national debt, unemployment levels, layoffs and other factors. "… Things are very, very challenging in this country right now economically, and I think we have to change course. Washington is not helping."
Talbert admitted she had no political ties or experience, but she said it was time for someone with that type of background to be elected.
"We need to put somebody in office who's not afraid to make the hard choices, make the deep cuts that do go against the status quo and may not be very popular," she said.
Moore she was not a career politician either, and she promised to work as a moderate with members of both parties.
"People want quality, good-paying jobs; they want our government to live within a budget just like we do here in our own homes in Kansas; and they want to ensure the our children have quality public education," she said. "I know that I'm the only candidate ion this race that will get the job done for the people in this district."
Candidates were first asked if they would support extending the tax cuts passed by Congress in 2001 and 2003, often called the Bush Tax Cuts, which will soon expire.
All candidates said they would support an extension. Talbert and Yoder both said they supported keeping the tax cuts permanently. Moore was more tentative, saying the government should extend them but should wait and see what is going to happen with the economy.
On healthcare, Moore said passage of this year's healthcare reform act was an important start. She said disagreed with repealing the act because she supported how the act helped insure those with pre-existing conditions, provided tax incentives for small businesses and allowed children to stay on their parents' healthcare until they are 26.
Yoder said he wouldn't have voted for the healthcare bill and didn't agree with something that didn't receive bipartisan support, so he supported repealing it and replacing it.
"I don't believe the government running our healthcare system and government takeover is going to improve things," he said.
Talbert agreed she would repeal healthcare. She said she liked the idea of providing everyone access to healthcare, but she didn't think it addressed the root problem: out of control spending. She said she wanted a system based on free enterprise.
Another difference in viewpoints concerned how to address the issue of climate change and energy production, including the system of cap and trade.
Moore said she would support cap and trade, because like healthcare reform, she saw it as a starting point. She said one large energy company told her that it agreee with the concept, but thought it just needed to be "tweeked." She said Kansas should capitalize on its capacity for wind energy production.
Yoder said he doesn't support cap and trade because he believes it will hurt the economy, saying that recent studies show its effects would reduce jobs in Kansas. He said a comprehensive energy plan was needed.
Talbert said she didn't support cap and trade because she doesn't like getting people to change through punishment rather than incentives. She said the government should give tax incentives and price breaks on green technology.
One of the areas all candidates agreed on was not reinstating the No Child Left Behind Act. Candidates also agreed that they would not support a second stimulus act suggested by President Barack Obama.
Moore and Yoder took time in many of their responses make negative points about their opponent.
Moore often made a point that the state budget Yoder suggested would have slashed education funding and noted that he voted to raise sales and income taxes in 2003. She also said he would support outsourcing of jobs.
Yoder said Moore had supported the tax increase at the state level this year and would vote for Nancy Pelosi as speaker of the House if elected, supporting higher taxes and more government spending.